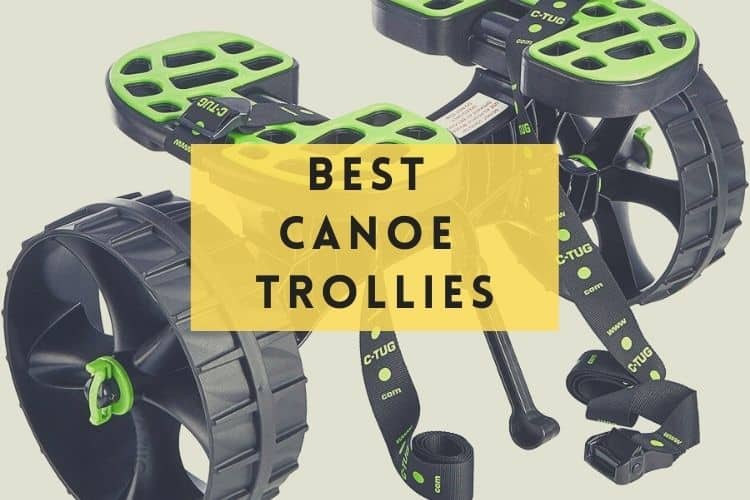 Paddling a canoe through the dusky river, reflecting meadows and the sunrise, is a blissful experience. However, this solace-seeking adventure involves a herculean task – hauling your craft to the water edge. This is where canoe trolleys come in! These handy carts ensure safe and sound portage, making them as crucial as paddles! We've put together five trendy trolleys for amateurs as well as pro canoe campers.
Click here to see the best canoe trolley
Best Canoe Trollies Reviewed
Seattle Sports Paddleboard ATC
Paddleboard All-Terrain-Center Cart is an impressive addition to the Seattle Sports' inventory. From recreational canoes to large-sized dinghies, it supports almost every type of sailboat. ATC features adjustable padded top bars with mediocre cinch straps. You can move the clasp along different settings to fit your canoe right in the center. Although tri-hull kayaks won't sit that easily, it works well with the flat bottom and arched canoes.
Urethane Tires
In contrast to the common bicycle wheels, this canoe trolley comes with solid urethane tires. They are airless, making them flat-free and vibration-reducing. Also, 16" tall wheels are powerful enough to face rutted trails. Besides, you don't have to hunch all the time for hand-hauling your craft. However, this creativity occasionally sacrifices the alignment of axles. Some units may have a default camber due to poor engineering.
All-new Kickstand
The manufacturer capitalizes on its spring-loaded kickstand. But many fail to grasp the hype. Having a stable stand helps you load and unload your canoe with convenience. Otherwise, the trolley keeps moving and makes this process a real brain-teaser. Simultaneously, it pops up by detecting tension on the frame – saving the craft unnecessary wear and tear.
Collapsible Design
The customer magnet for ATC is its incredible load capacity – 300 pounds! Meanwhile, you can transport your canoe along with all tackling and paddling gears. But the product's weight is yet more surprising – 16 pounds.
The canoe caddy is yet foldable. It has a sturdy and durable steel frame with an additional powder coating. And it breaks down with little hassle for low-profile storage.
---
RAILBLAZA C-Tug Canoe Trolley
C-Tug is the name of elegance. With a futuristic build, you can't go wrong with it. The frame is made out of reinforced, corrosion-resistant composite that delivers versatile performance in the wilderness. It weighs around ten pounds and ambitiously promises to carry up to 300 pounds. As the terrain gets more challenging, this capacity will decrease nonetheless. Thus, keep 250-260 pounds of weight in general.
You can stow this canoe trolley in a hatch or cockpit. C-tug is specifically fashioned for tandem paddlers having heavy vessels to trek through long stretches of uneven pavements. "Designed to get you paddling in places you never dreamed of." The tagline is not an exaggeration!
Tool-free Assembly
Say farewell to your toolkit as long as there is C-Tug! It assembles and dismantles within 20 seconds. The base is divided into two parts. Once it secures the position, snap both hull pads over them. Then, slide the wheels into the platform and twist to lock them securely. Voila, go canoeing!
Wheels – The Hidden Beast
This canoe trolley is a guardian angel of watersports enthusiasts. Due to the puncture-free wheels and molded rubber tread, nothing can subdue its grip. It rolls over sandy and graveled paths as swiftly as upon even ones. But don't forget to rinse it off with fresh water after an adventurous day out.
Ergonomic Accessories
C-Tug accessories are compatible with all models of the brand. The package contains flexible pads to accommodate all types of the hull. Other notable parts include a strap kit, kickstand, and toggle-locked cross beams. Also, you can pick SandTrakz wheels for pumped-up portage over soft ground.
Shop Now
---
TMS Kayak/Canoe Trolley
TMS tossed a budget canoe trolley in the market. And it has brought many elite products to their heels ever since.
KY001 is slightly bulky for a dolly that holds a maximum of 150 pounds. In any case, it solves all problems canoeists have to endure while transporting their vessels. Its platform ensures a long-lasting company. Plus, the cart comes with a four-meter-long nylon strap. But a pity that it's not worth a tinker's dam. An additional ratchet strap will do the task if you wrap it over canoe handles.
Build Quality
The powerhouse of the TMS canoe trolley is its rugged frame. The aluminum pipe sets it apart from the competition, whereas anodized steel fights off corrosion and abrasion. The V-shaped cradle is also welcoming to the rarest hull styles. In addition, both saddles have foam bumpers to secure the boat.
Pneumatic Tires
TMS canoe trolley has 91/2" diameter no-flat wheels. Outdoor savvies know the significance of pneumatic tires. Whether air-filled or solid, their thicker tread remains puncture-proof regardless of the surface's unevenness. You can't complain about the wheels – not unless rubber odor annoys you! When every component facilitates hassle-free transportation, wheels shouldn't hold back either! Installing their steel fasteners and chrome lynch pin makes novices look like experts.
Stability
Most cart carriers favor a certain type of mounting. But you can position your craft to the center as well as near the stern when it comes to our TMS trolley. Another outstanding characteristic is its dual-arm stand. It keeps the cart propped up while rolling the boat over it. This H-shaped kickstand encloses a spring for a smooth ride.
Shop Now
---
Suspenz Smart Airless DLX
Suspenz is a pioneer in the paddlesports equipment industry. Not only did it put forward the idea of SUP accessories, but it also garnered the courage to manufacture them. Despite falling in line with moderate variants, the DLX cart – having 125 pounds weight capacity – is still the marvel of engineering. The blend of aluminum frame and stainless steel hardware with instant assembly makes it a best-selling canoe trolley. Remove the quick-release pins, isolate the tires, and fold the cart – it's all set to be stashed away. Thanks to the free string bag it comes with, storage is not an ordeal!
Ground Clearance
DLX Cart uses an innovative arched axle that doesn't catch dirt or grime. It provides six-inch ground clearance behind the wheels with an uptick near the center. The dolly will cross parking and curbs as a breeze. On the other hand, rocks and logs won't halt our little expedition as well.
Amazing Wheels
If you think that its 23" wide axle is the finest trait, think again! The staggering wheels attached with quick-release locking pins are on par with trolleys twice of its cost. The 10" airless tires are rigid, ruling tipping carts or bursting tires out of the equation!
Durability
Suspenz invests in the longevity of its products. And the DLX line-up is no exception! It's equipped with four straps and a two-point kickstand to form extra layers of protection. And the watercraft rests on non-marring rubber pads. They tend to last longer than cheaper foam cushions.
Shop Now
---
RAD Sports Canoe Cart
RAD Kayak and Canoe Cart is yet another all-around edition that doesn't put a strain on your pocket. With similar cosmetics and construction as the TMS canoe trolley, it excels at frame material and add-ons. It can take an accidental beat, but assure not to repeat! Where yellow powder-coated aluminum keeps the trolley light and maneuverable, it stays susceptible to rust on frequent contact with saltwater.
But you get a useful 12" long tie-down strap that remains a fantasy for even a high-end model's user. Instruction manuals and advertisements stand contradictory. So, take the boasted specs with a grain of salt. Nonetheless, it still manages to punch above its weight.
Load Capacity
RAD trolley should hold up to 150 pounds, according to the Amazon listing. But the platform crunches no sooner than it crosses the threshold of 120, especially when lugging on a rough field. It is not a problem for canoe hobbyists. However, collectors and fishing geeks may be disappointed.
Airless Tires
It showcases 10" airless tires to win the hearts of paddlers. Some customers take them as pneumatic – a mistake! They're made of polyurethane with polypropylene hubs. These are technical jargon for a flexible plastic material that is resilient and heat resistant. No-flat tires are generally solid, but RAD installs hard plastic wheels to prevent them from popping besides deflating.
Compact Size
This canoe trolley suits certain types of excursionists. And campers top that chart. Since the cart collapses into three parts, you can board it anywhere from deck to hatch. With that said, instructions are scant that can make beginners scratch their heads.
Shop Now
---
So…whats's the best canoe trolley?
Canoeing in open waters is more refreshing than yoga. And the best canoe trolley allows you to paddle farther and trawl better. If you're looking for a multipurpose, heavy-duty cart with top-of-the-line features, RAILBLAZA C-Tug is your desired carrier. From pads to feet, it comes without pitfalls. In other words, everything to cheer and nothing to fear!
Click here to see the best canoe trolley
Now, add unparalleled aesthetics and unending sturdiness – C-Tug emerges hands down a top-pick. Not everyone can spare more than a hundred bucks after buying a whitewater canoe. In case you have lighter gears to transport, you can bargain for a lower price tag.
---
Five Things to Consider When Buying a Canoe Trolley
The paddleboard market has been revolutionized over the years. Still, five key elements govern the value of a canoe caddy – known as 'Five S Criteria.'
Structure of the cart
Manufacturers are introducing new designs every day. However, we can classify them all under two heads: sit-on-top and sit-in carriers. SOT trolleys are rare. They consist of an adjustable pair of support rods that plug inside the scupper holes of the vessel.
A sit-inside/cradle cart, on the contrary, has a flat base that holds up a range of surfboats. And long straps are used to fasten the crafts. These trolleys are all the rage nowadays. Provided that you also tick the other four determinants, one caddy will last a lifetime!
Spin of the wheel
The main function of a canoe trolley is to help transport our boat without straining the muscles. Therefore, tires are undoubtedly the nucleus. Before hitting a store, have a glance at the trail you plan to run your canoe on.
Large wheels have plenty of ground clearance to offer. They're helpful when you tackle rocky terrain. Similarly, balloon tires are ideal for wet conditions. In order to acquire a versatile cart, go for solid plastic or airless wheels. Since they are puncture-free, you won't have to take a pump on each trip.
Sturdiness of the frame
The frame makes or breaks the deal. Plastic-made hardware hardly withstands the shock, thus, gradually fading from the shelves. Two tough nuts to crack are stainless steel and aluminum framed carts. Steel is robust and rust-free, making it a top candidate for watersports accessories. However, it ends up increasing the weight that gives rise to lightweight aluminum alloy.
The composite frames – hybrid of two or more materials – are modish and rewarding alternatives!
Stowability of the device
The less space a trolley demands, the more likely it is to attract customers. Nobody wants to leave their purchase unattended on the shore while canoeing. Ease of storage stands crucial in the field. A compact trolley easily sneaks onto the deck or roof rack.
However, a foldable variant is another plus. If you're already lugging fishing and camping gears, choosing a cart that breaks down into a small package is an intelligent decision. The storage requirements, in any case, shouldn't compromise the durability.
Stability of the specs
How often does a glossy item cheat your eyes to appear worthless in the end? The secret of a worth-buying product lies in the stability of its features. The organization of parts translates into their durability. Know the weight of your canoe along with attachments. Then, exercise your credit card accordingly.
As wise men say, you get what you pay for! Expensive models come with marine-grade parts, extended load capacity, and end-user warranty. Granted the fact, they shouldn't be too hefty to evoke a fair deal.