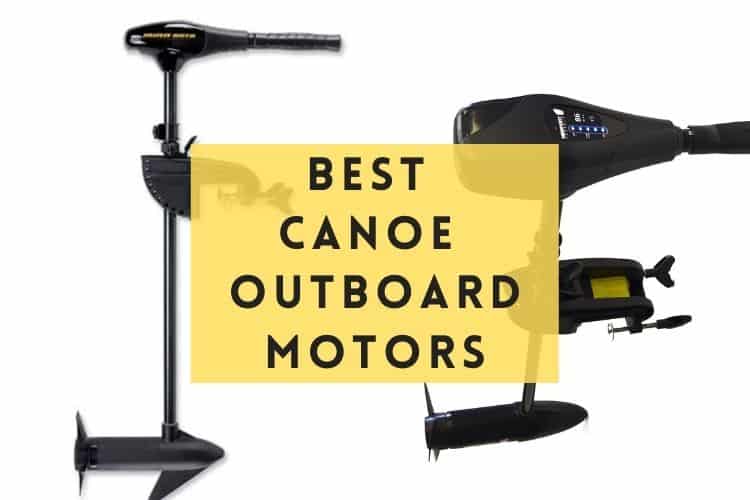 A serene waterway full of canoes and kayaks is itself an Olympic arena. From relay race and angling to Frisbee and stargazing, there are endless pastimes.
However, solo paddlers have to give up these marine activities unless their small boats are equipped with an outboard motor.
A well-made motor steers your craft to hit any fishing or swimming hole in a snap. Then, wet a line or drop an anchor without muscle strains. We've picked the best canoe outboard motors for your seamless experience.
So, fish and whistle with products that are worth a whirl!             
Click here to see the best outboard motor
Best Canoe Outboard Motors Reviewed
Minn Kota Endura C2 Canoe Outboard Motor
Visit a pier surrounded by light boats, and you'll see Minn Kota imprinted on the majority of outboard motors. When it comes to an all-purpose electric motor for freshwater usage, no model stands a chance against Endura C2.
The scope of this canoe outboard motor is parallel to NV-Series. But its range of thrust (30-55 pounds) is more suitable for canoes.
Also, the 6″ extendable telescoping handle offers incredible steering control at your fingertips. The propeller generates four times greater torque than the movement of the tiller. A canoe equipped with Endura is no less than a Rolls Royce among anglers.   
Immortal Shaft
The shaft comes in three sizes – 30", 36", and 42" – to suit all heights of canoes. Thanks to the sturdy aluminum alloy, the manufacturer calls it indestructible and stronger than steel. And they provide a lifetime warranty to back it up.
Unlike hard plastic, the shaft flexes on impact and effectively repels underwater debris.    
Lever Lock Bracket
C2 is full of surprises. And the lever lock bracket tops that chart.
It makes mounting and back trolling as easy as pie. Lift and spin the bracket to hook one of ten fixtures. This way, you can adjust the tilt angle of the canoe outboard motor and relish an intuitive experience.      
Tried-and-Tested Prop
Minn Kota is the pioneer of flared propellers. It cuts down unnecessary noise that spooks the fish. And the heat-resistant commutators cool down the operation.
Endura models bring innovative Power Prop with upraised ends. On paddling through shallow waters, weeds and grass give you a headache. But this effective dual-blade chops off underwater terrain.  
---
Newport Vessels NV-Series Saltwater Trolling Motor
Newport Vessels has enchanted canoe owners with their durable trolling motors. And NV line-up is the latest to launch yet the quickest to assert itself.
You can choose among five thrusts, given your boat size and power needs. Its 55-pound variant, however, is the leading canoe outboard motor. At medium speed, a 50Ah marine battery can power it for five hours straight.
NV canoe motors come with a 30" adjustable shaft and 6" telescoping tiller. They are made out of reinforced fiberglass and sealed with a directional lock. 
In addition to a two-year's warranty, the package also contains a circuit breaker to deal with electrical surges.
Fast and Furious
One thing that defines the value of a canoe outboard motor is its speed performance. And with an NV-Series trolling motor, the canoe glides as a quiet breeze. It features an 8-speed mechanism, having five for forward and three for reverse cruising.
Not impressed yet? Imagine sailing at four mph in your 14-feet boat.    
Saltwater Compatible
NV-Series trolling motor operates in both fresh and seawater.
Manufactured with zinc, aluminum, and fiberglass composite plus stainless steel hardware, corrosion is uninvited in the party. Additional nylon coating over a 3-blade propeller ensures an ultra-silent operation. 
Nonetheless, its head and handle are not waterproof. So, a downpour can compromise the fun. 
LED Battery Meter
Newport Vessels has also attached a 5-point meter onto the head. It accurately translates the remaining charge with an illuminated daylight display. 
It seems like a fancy gadget, but it's crucial to plan your boating activity.
---
MotorGuide X3 Freshwater Foot-Controlled Motor
MotorGuide spreads X3 motors as a deck of cards before canoe fishers. You can choose among foot-operated, hand tiller, and remote-controlled models. 
Also, its 40-70 pounds variants increase the versatility.
The recent motors are bow-mounted. Now, old-school watercraft can also benefit from an advanced canoe outboard motor. Its mounting bracket features aircraft-grade aluminum support to resist shocks while stowing or deploying.
The base on X3 is wider but more stable than its alternatives. The composite locking pins limit rattling metals to a myth even at the highest speed.  Whereas Safari Prop, consisting of two scythe-styled blades, doesn't bog down on vegetation.   
The Pedal Bounties
The pedal is connected with a sturdy cable. Its VRS technology boosts the responsiveness and sensitivity of the system. Foot steering enables you to cast further and hook a stubborn fish.
Only the foot-controlled models have an LED-backlit directional indicator and battery meter atop their control heads. 
Reengineered Shaft
MotorGuide has introduced a composite shaft with stainless steel bushings in recent designs. Simultaneously, size 30 has reached end-of-life status.
The composite material is a blend of flexible and impervious properties. However, the shaft's upper bearings are still vulnerable. So, order extra stainless steel bearings from MotorGuide.    
Speed Control
X3 canoe outboard motors deliver jaw-dropping forward speed. The Variable Ratio Steering with five different speeds cuts through the current like you never imagined. But the reverse speed lacks such precision.
Use the number dial – and cross that mile! Don't forget to count its digital control among next-generation technologies.  
---
Newport Vessels L-Series Electric Outboard Motor
Newport Vessels L-Series helped the brand penetrate the market. Still, this timeless canoe outboard motor is a life-saver for budget-conscious canoeists. 
Overall construction resembles the NV-Series, including 8-Speeds and 6" telescoping handle. But you can tilt the motor's head 30 degrees to find a comfortable spot. Also, it features a 40" long heavy-duty shaft – entirely adjustable from the collar.     
Although it has rust-free powder coating on key areas, it deteriorates in the long run. Always make sure to wash its base with fresh water before storage.  
One can easily identify L-Series motors on the racks of a supply store. And we have its ergonomic white color scheme to thank.   
Dynamic Thrust 
L-Series only comes in two thrusts. A 62-pound electric motor requires a 12V deep cycle battery to draw a 58-ampere current. This power is sufficient to go with small to average-sized canoes.
On the other hand, 86-pound thrust is equivalent to 1.5 horsepower. It is suitable for an above 14-feet transom-mount vessel. But you'll have to affix two batteries altogether. 
Lightweight canoes will travel quite faster even if set at the lowest speed. 
Attractive Propeller
The 3-blade prop is nylon-made with fiberglass reinforcements. It has a 10" diameter, providing exemplary acceleration and exceptional undergrowth clearance from a standstill.
The producer has traded-off longevity of gears with their weight. Plastic components are unreliable though feathery. Thus, keep a replacement prop at hand along with zinc washers.  
Battery Meter
L-Series canoe outboard motors have a 10-point LED meter. Its lime display strikingly accents the brilliant white surface. More importantly, it keeps you informed about charge level and remaining usage.  
---
Watersnake ASP Transom or Kayak Mount Outboard Motor
Watersnake is an Australian firm that offers a worthwhile escape from predominant marques. 
They've produced only five trolling motors so far. But the vast coverage of the company's support and accessories put their models among first-rate canoe outboard motors.
ASP is available in two thrusts: 18 and 24 pounds. Their shaft is 24" long, carved out of anodized steel. These features make them a natural companion of canoes, kayaks, and other rowboats.
It features an all-new Venom head with a comfortable grip and digital voltage meter. The small tiller can easily maneuver your canoe while the tiny propeller would keep it afloat. But try not to snag on weeds!        
Portable and Powerful
If you're a light-duty angler with a recreational canoe to traverse, T18 or T24 motor can spice up your maritime endeavors.
It is the lightest and shortest electric motor to sneak into our recommendations. With all hardware in place, it weighs around 2kg yet makes an amazing fit for a 5hp gas motor.   
Versatile Mounting
These canoe outboard motors come with a typical nylon clasp for transom mounting. However, you can order a specialized bracket that clutches the decks of kayaks and canoes.
The mounting bracket falls loose on a few styles and disrupts the ride in the middle of nowhere. You are better off substituting them with nyloc nuts. 
Power Efficiency
All Watersnake trolling motors run via 12V Li-ion batteries. 
ASP T18 and T24 motors extend a disappointing two-speed mode with a directional switch. But they consume 9-20 amperes throughout this window, making the motors power-efficient as well as long-lasting. 
---
So…whats the best canoe outboard motor?
Choosing the best canoe outboard motor is not a one-size-fits-all venture. It eventually depends on your boating taste. But if we have to announce the gold medalist of the day, going for Minn Kota Endura C2 is a smart decision.
It is, after all, a premium and trustworthy electric motor with adjustable length and speed controls.
Furthermore, its stealthy setup gives you an upper hand with reel and rod. And the way it withstands saltwater contact deserves a big round of applause. 
However, Newport Vessels and MotorGuide also have many aces up their sleeves. And it's never too late for novel brands to release breakout hit gears.
---
Canoe Outboard Motors: The Ultimate Buyer's Guide
Canoe fishing has become a staple hobby. And this ever-growing community finds its way to ship chandlers. An ornament will eat up your investment if you don't know what to look for in a canoe outboard motor.
Answer two cardinal questions before buying a trolling motor. First, what type of motor do you want to buy? And what is your vessel's size and shape?
A freshwater-only motor renders it useless with seaworthy boats. Similarly, gas-powered motors are outdated because of all the noise and fumes. Lastly, the dimensions of the stern or bow will help you choose the right shaft length.        
Does your mind have a clear picture of your desired outboard motor? If yes, pick up your car keys and evaluate different models against the following qualities.         
Power
Electric trolling motors are not rated in horsepower but pounds of thrust. The greater this number, the more power an engine generates. But the fuel and battery consumption accelerate at the same pace.
For canoes and kayaks, 30-50 pounds will suffice. As long as you have a 12V or 24V motor, one pound draft for every 50-pound of canoe weight does wonders against tides.   
Control
Uncertain weather conditions and challenging fishing spots breed the need for impressive controls.
Where speed and directional navigation are beneficial, steering control remains the crucial real-time factor. 
Most canoe outboard motors are hand-controlled. Some high-end models come with foot pedals and wireless remotes to facilitate quick retrieves with 360-degree mobility.
Material
A heavy outboard motor can disturb the stable ride of your canoe. Thus, an ideal piece should be light and firm. Manufacturers keep experiencing different composites to achieve an optimum balance between the two.
Engineered plastic and aluminum are used to present durable equipment with low price tags. Stainless steel bearings make a huge plus! 
Check out high-touch components, such as the prop shaft. It should wave almost 12" deep under the water. Shorter handles push the motor out, whereas longer ones snag on rocks and debris.          
Mounting Style
A transom-mount canoe outboard motor is generally preferred. It is bolted on the stern of your square back watercraft. To use with conventional canoes, buy a specialized mounting bracket.
The second type of motor is attached to the bow of the boat. Instead of pushing, it pulls the boat from the front. Although canoe outboard motors are available in this style, bow-mount rotors perfectly maneuver the larger vessels.      
Add-on Features
Besides essential parts of a motor, firms try to outrun each other with small updates. They make products more efficient and effective to use.
For example, air cooling keeps the temperature down, and CDI ignition prevents clutch damage. Voltage meter and digital input are other valuable specs. However, sonar electronics are worthless for canoes, so don't throw money down the drain!       
---