Do you want to know how to inflate an air mattress while camping? It may seem self-explanatory, but you want to prepare ahead of time and be knowledgeable about your equipment so that you make the most out of your trip.
So, how to inflate an air mattress while camping? You can use an air pump with electric power, work with a manual pump or you could look into a self-inflating sleeping pad. We'll show you how to inflate an air mattress while camping, with and without electricity.
How do you inflate an air mattress when camping?
How you inflate your air mattress will depend on your preferences, what you have available and the length of your trip. The most modern and common way to blow up your mattress is with an electric air pump.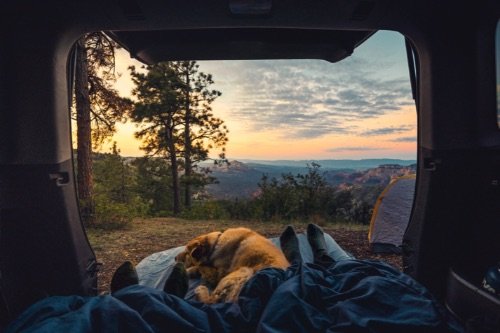 Campsites with Electricity
To make sure you have power at your disposal, preplan your adventure. Campground websites will list their amenities, but you can always call or email. Also, test your equipment before leaving to ensure everything operates right. Regardless, bring a battery pack, a manual pump or something for backup.
Campsite Considerations
Sometimes, outlets are far from the campsite, so devising a recharging system is essential. You can take your mattress to the outlet to blow it up. But, this isn't going to work if your tent door is small. You could also put the mattress in the tent and carry it. Also, an extension cord might suffice if the situation is amenable.
Using Your Car's Power
A campsite with an electrical outlet is all well and good, but you may not locate one if you're going somewhere specific. Your car's battery can be a solution for this.
But please not that some campground won't let you park next to your site, so you'll have to figure out a way to inflate the mattress. You can try the suggestions above for campsites with electricity.
Cigarette Lighter
If you want to use the cigarette lighter in your car, buy an electrical air pump designed for it. There are a bevy of products available that offer pumps for wall outlets and a car's 12-volt cigarette lighter.
Make sure the car is running when you do this because it will put stress on your car's electric system and battery. You can use the lighter while it's off, but you risk killing the battery.
DC Power Inverter
You can find a huge variety of DC power inverters to convert your car's 12-volt cigarette lighter into AC power outlet. You can use a number of electrical appliances in addition to your pump.
But you must run your car, keeping it off isn't an option. Another pitfall is the drain on your car's battery and electrical system. If your vehicle is iffy, you may want to consider another inflation method.
Battery Power
You can get an air pump with traditional or rechargeable batteries. But if you're staying for a long time, this isn't going to be practical. You either have to buy a boatload of batteries or consistently recharge them.
Power Banks
For extended camping and using other electronics, a power bank will be perfect. They come in many wattage capacities with support for a TV, speakers and gaming system. This includes powering your air pump and inflating your mattress inside the tent without issue. You can charge the bank before leaving or while en route. There are even some solar power banks available.
Car or Bike Tire Air Compressor
Air compressors for tires, including bike pumps, are a beneficial option for inflating your mattress. But, it will need an adapter to make it compatible. It should be capable of converting a Shrader valve to one that fits the mattress.
But, it will take much longer to fill the mattress because these compressors create high-pressure low airflow. Air mattress pumps provide high airflow. Once again, you'll have to keep your car running if you're using the cigarette lighter.
How do you inflate an air mattress with a pump?
A manual pump is a trusty, handy go-to classic. It frees up the worry in finding a power source and figuring out a scheme for regular recharging. The obvious downfall with a manual pump is the amount of effort and time required to inflate the mattress.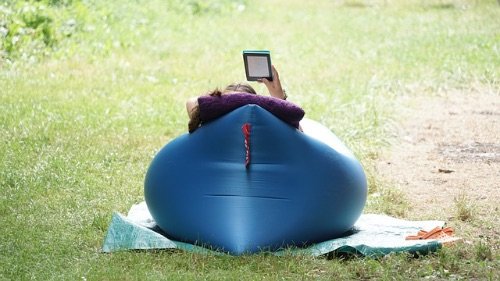 Double-Action Pumps
Double-action pumps work by pushing a handle up and down. It takes work but you'll have a solid way to refill the mattress. The nozzles and hoses have a low PSI with high airflow, making it excellent for air mattresses. They inflate and deflate, allowing for quick air release from the mattress.
Built-In Pumps
Mattresses with built-in pumps need electricity. But if there isn't any power around, a dual-action pump will do the trick.
Foot Pumps
As the name indicates, you'll operate this with your foot. They have a bellows-like construction with high airflow, making it easier to inflate your mattress and gentler on the body.
Are self-inflating camping sleeping pads any good?
An alternative to using an air mattress is looking to self-inflating camping sleeping pads. Many people swear by them and they offer a quick way to set up your campsite without the use of electricity or needing an air pump.
Wellax Sleeping Pad
The Wellax Sleeping Pad is highly sought-after on Amazon. For about $90, you'll get optimal warmth and comfort while camping. It's three inches thick that's 77" long and 28" wide, made to reduce pain after sleeping on rocky terrain or uneven ground.
It's compact and lightweight, composed of durable nylon that's silent, waterproof and tear-resistant. There are two valves to both inflate and deflate the pad. The company boasts a no-questions-asked refund or replacement if you're not happy with it.
As you can see, it's not rocket science in knowing how to inflate an air mattress while camping. You can use electricity, a manual device or you can purchase a sleeping pad, like the one from Wellax.