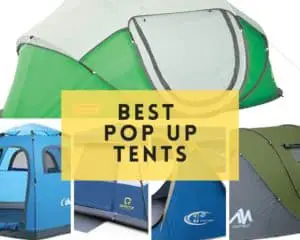 Camping is a popular past-time among people all over the world. It's hard to think of a better way to escape reality than travelling to the wilderness for a few days and ditching your hectic lifestyle. If quiet and nature are two things that you are direly in need of then maybe it's time to book a getaway in the woods.
Have you ever seen those funny videos of someone struggling to put up a tent? They usually give up and sleep underneath a piece of fabric that looks like it's barely hanging on itself. It makes you wonder if they have ever heard of an instant pop up tent. Just imagine how much more fun camping would be for them if they had just bought one of the best pop up tents instead.
Click here to see the best pop up tent
Best Pop Up Tents Compared & Reviewed
Quick Top 5 Comparison
Model
Coleman 2 Person Pop Up Tent
Moon Lence 4 Person Instant Family Pop Up Tent
Ayamaya 6 Person Pop Up Tent
Last update on 2023-09-10 / Affiliate links / Images from Amazon Product Advertising API
1. Coleman 2 Person Pop Up Tent
Coleman pop up tents are trusted by families all over the world. With all of their camping supplies, from coolers to tents and everything in between. If you are searching for a 2 man pop up tent that's built to last through all of your outdoor adventures, this is the one.
Every good tent needs a rain fly, but this one takes it up a notch and has a fire and water resistant fly. The rain fly is also built to be positioned in various different spots on the tent, making ventilation a breeze. When summer humidity strikes, this simple tent is a must have.
The measurements of this spacious waterproof tent are 7ft 6in by 5ft 4in, and 2ft 11in tall. This is very roomy for a 2 person tent so you won't have to worry about feeling cramped at all. You will wake up feeling refreshed after a good night's sleep.
This quick pop up tent has become a favorite for so many campers across the world. Coleman is a camping brand that everyone can trust.
Click here for the latest price
2. ZOMAKE 4 Man Pop Up Tent
If you are searching for a multifunctional pop up dome tent that is practical for a small family, then this is the one for you. It provides a spacious and breathable room to sleep in at night, but also doubles as a playhouse for the kids during the day.
This 4 person tent has a water resistant UV protection to keep your little ones protected from the sun. It is also a very breathable pop up family tent that comes with 2 mesh doors, 2 mesh windows and even a mesh sky roof for optimal air flow! You can spend time together in there without having to worry about mosquitos.
This lightweight pop up tent also comes with an easy carrying case, so you can bring it along with you for a day at the beach. New mothers are in love with how easy it is to turn this tent into a playhouse.
Click here for the latest price
3. OT QOMOTP 10 Person Pop Up Tent
The more the merrier! If camping is always a party for you, then consider buying this large pop up tent for your next outdoor soiree. This waterproof easy pop up camping tent is ready in just 1 minute, leaving you with more time to spend with your guests.
You can fit all those people in there and still breathe nicely. It is designed with a mesh roof and ground vent to air the tent out nicely, but is also designed to make sure no rain gets inside. There is even a rain fly to make sure of that. No wonder so many people are saying this is the best automatic tent around.
So just how big is a 10 person pop up tent? This big pop up tent stands at 6ft 4in tall and is 10ft by 14ft. This can fit up to 10 people, but if you need to store luggage as well it is more suitable as an 8 person pop up tent. Needless to say, this huge tent is really a portable cabin!
Click here for the latest price
4. Moon Lence 4 Person Instant Family Pop Up Tent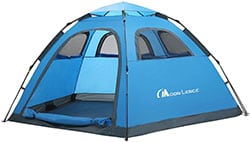 If you're looking for the easiest tent to set up, Moon Lence has designed one so simple even your youngest child can assemble it. This tall pop up tent is built for your next mountain adventure.
This waterproof pop up tent is breathable and can hold it's place against strong winds. There are 10 pegs strongly holding this tent down in place. Even though this cinch pop up tent is strong against stormy weather it is still made with a lightweight design making it easy to carry, even on the longest trails.
This spacious tent can hold 4-5 people and comes in 3 different colors. If you're trying to encourage your children to take part in camping this tent is a great start. Children feel like they have accomplished something big when they have set the tent up on their own. This is one of the best automatic pop up tents for allowing your kids to take over the job of setting up. You won't have to worry about it falling down in the middle of the night either.
Click here for the latest price
5. Moon Lence 4 Person Instant Water Resistant Tent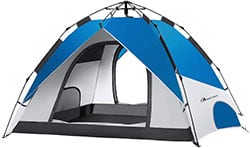 Moon Lence knows all about making high quality camping tents, so it really isn't a shocker that they are appearing on this list twice. After all, they make so many amazing tents we couldn't just show you one.
This 4 person pop up tent is extraordinary because it comes with a 210D Oxford Ground Sheet. This sheet provides you with not only extra water resistance, but also works as an amazing UV protector. Let's not forget that it is also windproof. This is the best pop up tent for camping because it is ready to handle whatever weather issue comes your way.
This 5 star easy assemble tent will be ready for you in under a minute too! Every buyer has said that this is one of the simplest tents they have ever set up and taken down. No wonder so many people are saying Moon Lence makes the best instant set up tent.
Click here for the latest price
6. Ayamaya 6 Person Pop Up Tent: Easiest Dome Tent To Assemble
There are so many large instant tents to choose from, so you can't choose one with boring features. This 6 person dome tent is perfect for large families and loaded with features that make it one of the most amazing easy to put up tents you can buy. The Ayamaya 6 person pop up tent is a dream come true for many campers.
It comes with preassembled poles to make sure that this quick setup tent causes no hassles. Set up of this easy pop up tent is as simple as opening the bag and letting it go.
This camping tent is made with a special double layer to keep you warm and dry all night. It has a windproof and water resistant design to ensure this. Things won't get stuffy in there though because there is a gap between the 2 layers for some extra ventilation.
This simple tent also has 2 mesh doors and each of them have hooded vents. To make it even more breathable they have added 4 mesh windows. You don't have to worry about bringing extra blankets because there are heat sealed seams that will prevent you from getting chilly on cold nights as well.
Click here for the latest price
7. Lethmik Waterproof Instant Tent
If a waterproof 3 person pop up tent is exactly what you need than this is one of the best fold out tents that you will find. Small, simple, and affordable. This is the ideal tent for light campers.
It's lightweight design makes it easy to carry on all of your journeys and it weighs less than 7 pounds! This is one of those easy to set up tents that is also great to bring as shade for a day at the beach.
The easy to work zipper takes you from breezy mesh to complete privacy in just one zip. This feature makes it easier for when you have to change at the campground.
Out of all the automatic pop up tents we have talked about today, this one has the fastest set up time. All it takes is 30 seconds to set up or take down this easy instant tent. If you blink you could miss it's set up!
One small but completely useful feature that this tent has is a pocket on the inside to hold things such as your cell phone, wallet or headphones. It really helps you keep your small stuff organized on your getaway. It's not hard to see why so many people love Lethmik's pop up tents.
Click here for the latest price
8. OT QOMOTOP 4 Person Instant Tent
OT QOMOTP makes our list of best instant tents again with this amazing 4 person dome tent design. This is one easy set up tent for camping, I mean this only takes a few seconds to set up. The take down can be accomplished in under a minute after watching a very helpful video.
The seam-taped design guarantees that this tent is 100% waterproof. No leaks to worry about on those rainy nights.
One of the best aesthetic features of this tent is it's zip up double doors that look like french windows when unzipped. They are also very easy to zip up from inside the tent, so you never have to step out on rainy days.
The quality of this tent makes it comparable to the ever popular Quecnha pop up tent. This simple instant tent has made camping easier for families all over the world.
Click here for the latest price
9. BFull 2 Person Instant Tent
If you need a small fold up tent that is easy to assemble we have the perfect mini pop up tent to show you. This tent easily fits 2-3 people, but it's lightweight design makes it feel like you are carrying a single person pop up tent.
I love this design because it is one easy tent to put up and the fibreglass pole makes it extra sturdy for windy nights. The fly zip allows for extra coverage on this already waterproof tent. Every camper needs to feel safe and comfortable when they go to sleep at night.
Another great perk about this tent is Bfull's full coverage warranty promises a replacement if any damage happens to the material of your tent. They take care of their customers.
Click here for the latest price
10. MobiHome 6 Person Instant Dome Tent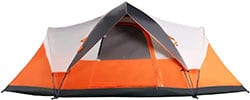 This soft set up tent really is perfect for the whole family to enjoy. It is made for an instant set up with this easy one person pop up tent assembly. Setup is so simple, you can get one of the kids to do it while you relax.
This waterproof and durable tent also comes with a fly zip in case you run into rain. The mesh windows create a breathable atmosphere while protecting you from mosquitoes and other pests. This lightweight tent also has a carrying bag for easy travels.
This is the best dome tent for larger families. Your children won't be scared at night if they are able to share a tent with you. If you have a family that continues to grow, MobiHome has the perfect pop up tent for you. It also comes with a 1 year warranty!
Click here for the latest price
Important Pop Up Tent Features 
Before getting to the reviews it's important to know a little bit about the features you want your new tent to have. Other than being easy to assemble, your tent needs to have some other important features to keep you satisfied.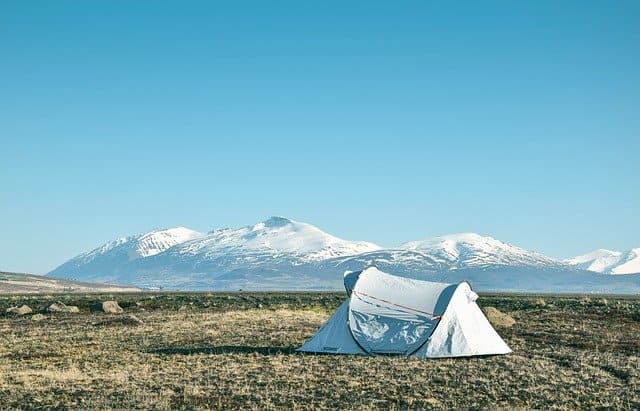 Budget
Your budget is something that you should consider first when getting a new tent. If you have the budget for a more luxury tent you won't regret the splurge because your pop out tent is something that can be used many times throughout the years. Some of the extra features, such as organizers and carrying bags, may not be necessary but they do make camping more enjoyable.
If your budget only allows you to go for a cheap pop up tent for now, don't worry. There are some really good quality tents available at a reasonable price as well. They are still waterproof and very durable so you will feel safe and comfortable at night.
Warranty
A warranty is something else that is important. Camping isn't a dainty adventure so you need an easy pop up camping tent that will remain strong. Having a warranty on your tent ensures you that if anything happens to it, the company will replace or refund your tent.
Size
How many people will be sleeping in this tent? Make sure you keep size in mind so things don't get crowded in there. If it's just you then a 2 person tent is fine, but if you want to bring a couple of pals then you might need to upgrade to a 4 person design.
You will also need to allow room for luggage. If you bring air mattresses with you, they take up extra room. So a 3 person tent will turn into a 2 person tent once air mattresses and luggage come into the picture. A 2 person tent can also be ideal for 3 children since they are smaller.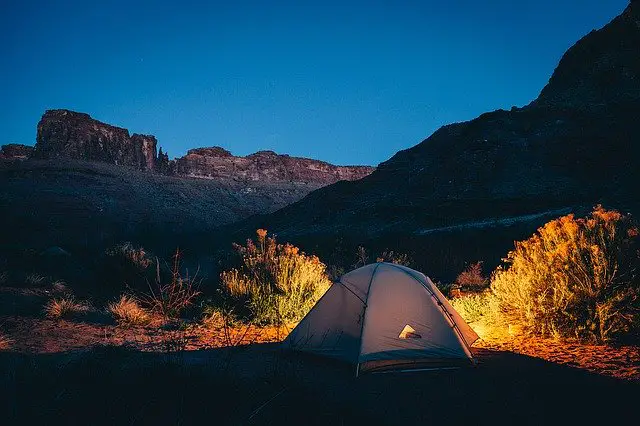 What Is It Made From?
Don't skim through the pop up tents without reading about what material each one is made from. If you ever get caught in rain while camping you will know right away just how important a waterproof tent is!
It is also a good idea to make sure your tent has decent sun and wind protection as well. A rain fly is also important for keeping you safe against whatever mature nature throws your way.
Last but not least, you will need to breathe. Make sure that the self setup tent has good ventilation. Many tents have mesh windows and doors that allow breathability while keeping the bugs out.
Weight and Travel Options
If you like to get the full nature experience and travel by foot through the woods, then you may have to walk a fair distance to reach your camping destination. If that's the case you will definitely want a lightweight tent to take with you.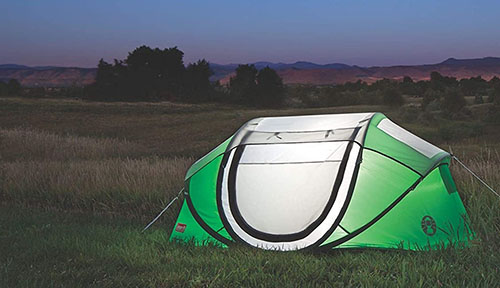 You will probably have a lot of other supplies to bring with you, so a bulky tent is one thing you don't need. Many popup tents are also lightweight. The lightest ones weigh under 7 pounds for extra carrying ease.
Brands
One more thing to consider before we get to the reviews are easy up pop up tent brands. Every company that specializes in outdoor gear has qualities that make their brand special. It's always a good idea to take time and get to know what each company has to offer. This is how you discover which brand will make the best instant tent for you and your family.
---
Final Thoughts
We just went over 10 of the best pop up tents that you will find online to make your shopping experience easier. There are a few important things that I hope you took in over these reviews.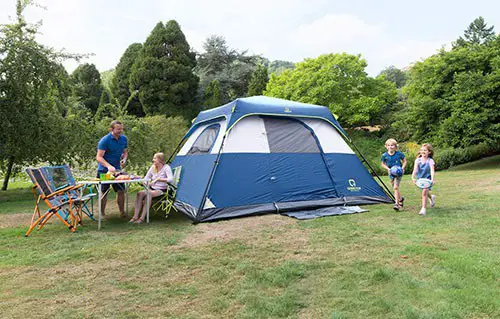 Always consider where you plan on taking these pop tents.
If these are tents that you plan on taking with you on beach day adventures and journeys into the wilderness, then it is important that you choose a lightweight design that also has a carrying case for easy travelling.
How many people will be sleeping in your tent? Everyone gets a better night's sleep when they aren't crowded.
Don't forget about durability. You need a tent that will keep you safe and warm at night. If you need to camp out in very cold weather, these also consider one of the top tent heaters.
Waterproof tents are a must have for every camping trip! Nobody wants to wake up soaking wet in the middle of the night.
A rain fly is another added bonus too, especially when you are looking at the best tents for heavy rain.
Good ventilation is also something you can't ignore, especially if you are sharing a tent with multiple people. Otherwise, you may have to invest in a good portable tent air conditioning unit.
Keep an eye out for mesh windows
A warranty is always a plus just in case something happens to your tent's material
All of these pop up tents have some pretty amazing features. Which one will you be bringing on your next camping trip? Let us know in the comments.
Click here to see the best pop up tent
---
Frequently Asked Questions
Every first time camper has a few questions about pop up tents and what makes them better than a regular camping tent. Before you purchase your new tent, we are going to answer a few things you may be wondering. We want to make sure you get the best instant tent for your camping experience.
I want to save time, are pop up tents hard to pack?
Not at all! A foldable pop up tent is just as quick and easy to unpack as it is to set up. Even a larger 4 person tent is easy to pack back up in it's carrying case. The whole purpose of their design is to make your camping experience as simple as possible. Most of the companies will have a video online explaining how this is done.
Can you tell me what pop up tents are made from?
Pop up tents are made very similar to regular camping tents. Most of them are made out of either vinyl, canvas, or even a mix of both. These may be easy tents to pitch, but that doesn't mean they lack quality in being built. The same tough quality is put into large family sized dome tents as it is for a smaller one man pop up tent.
My camping trip is for a whole week. If it rains will I have somewhere dry to stay?
Of course you will. A good quality pop up tent is always waterproof. They are designed with that in mind so you can get a good night's sleep and stay dry, even during a thunderstorm.
If you want to be extra cautious, look for a tent with a rain fly for more protection against bad weather. It doesn't hurt to have all the extra amenities.