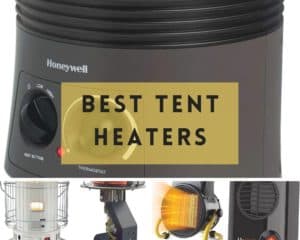 Camping during the winter can be fun but challenging. One of the main reasons to head out during the winter is the fact that you won't encounter as many people. Nevertheless, you'll have to put up with the cold weather. You can make things a little easier on yourself by purchasing one of the best tent heaters for camping.
So, which one of these camping heaters is best? Read the reviews below before deciding for yourself.
Click here to see the best tent heater
Best Tent Heaters Reviewed and Compared
Last update on 2023-09-24 / Affiliate links / Images from Amazon Product Advertising API
1.Lasko 100 MyHeat Personal Ceramic Heater
Those trying to save money will want to check out the Lasko 100 MyHeat Personal Ceramic Heater. While inexpensive, it offers plenty of heat for one individual. It delivers 200-watts of power at 682 BTUs making it a powerful heater for its size. Furthermore, this heater is going to save space in your tent. It can be used under your desk to keep your feet warm or in your tent to heat the small space. It is only 6 inches tall with a 4-inch by 4-inch footprint.
Also, it can be used around the year without any issues. Thanks to its quiet operation, you'll be able to sleep soundly while staying warm in your tent during the winter.
Easy For Camping
Unfortunately, some heaters are too big for camping. So, you'll want to opt for something smaller and more compact. You likely won't experience any issues whatsoever with the Lasko 100 MyHeat Personal Ceramic Heater. Thanks to its compact size and weight, you'll easily be able to take this small tent heater with you. You should be able to grab it and haul it around with one hand. This ceramic heater won't slow you down at all.
You'll be able to carry it alongside your tent, shovel, and other camping gear. This is a great compact unit that ensures you don't have to resort to a battery powered tent heater.
Click here for the latest price
2.Honeywell HHF360V 360 Degree Surround Fan Forced Heater
The Honeywell HHF360V Forced Heater is a good option for anyone who is going to be camping. It features 2 heat settings so you'll be able to adjust the temperatures in seconds. Furthermore, it has a handle at the top so moving the heater around will be very easy and convenient. This heater is lightweight and compact as well. This makes it a good choice for taking it out camping with you. Just remember that you'll need access to electricity. Otherwise, you won't be able to use this Honeywell heater in your tent.
It is energy-efficient and capable of providing 360-degree all-around warmth.
Lots Of Features
The Honeywell HHF360V Heater comes with a variety of features. If you want to save energy, you'll be able to use the Low setting. You'll also appreciate this heater's safety features. If it tips over, it will shut off automatically. This means that you can sleep with the heater without having to worry about it. The compact size makes it a good addition to your tent. It is powerful enough to warm the entire tent without any issues and in our opinion, is one of the best tent heaters around.
Click here for the latest price
3.Mr. Heater Corporation 29,000 – 45,000 BTU Tank Top
If you have a propane tank, you'll want to buy the Mr. Heater 540-Degree Tank Top. This camping heater isn't suitable for everyone but it'll work great for camping. This one is unique because it mounts to a 20-pound cylinder. Then, you'll be able to use the fuel to heat the space around your tent. This heater shouldn't be used inside your tent since that could create problems. However, it is excellent for heating your hands while you cook marshmallows.
Best Delivery
While the Mr. Heater requires a propane tank, it'll prove to be worth it. After all, it is going to deliver more heat than many of the alternatives. This 30,000 to 45,000 BTU tank top heater is going to deliver more heat. If you're not careful, this heater may cause you to sweat profusely. Again, you likely won't be able to use this camp heater inside of your tent. However, it is great for other applications and you won't have to worry about buying a generator.
Click here for the latest price
4.Dura Heat DH2304S 23,800 BTU Kerosene Heater
If you're going to go camping soon, you'll want to think about purchasing the Dura Heat DH2304S Kerosene Heater. This one can be as a heater for camping but you may not want to use it inside your tent. It has a protective shell that might be able to prevent problems. The protective grill helps ensure that you don't get burned when using this heater. With a full tank of fuel, you'll be able to use this heater for 8 to 12 hours without any issues. You'll also like the fact that it will emit heat in 360-degrees.
It'll ensure that everyone stays warm throughout the night.
Usable Anywhere
With the Dura Heat DH2304S Heater, you'll be able to use it anywhere. You won't have to worry about buying a camp spot with electricity or bringing your generator. Since it uses kerosene, you will be able to use it outside without cords. All you need is a tank full of kerosene and you'll be good to go. Again, you'll be able to use the heater for up to 12 hours with a full tank.
Click here for the latest price
5.PROWARM Portable Space Heater
Many people will like the PROWARM Portable Space Heater because it is compact and space. Also, it features a heater and fan combo so it'll be able to push the heat in your direction. This heater can begin emitting heat very quickly but it won't consume a lot of space. It measures 9.45 by 7.28 by 10.62 inches. Plus, it has a recessed handle on the bank.
Safety First
The PROWARM Heater is designed to protect you and your loved ones to the fullest. It has an overheat protection mechanism to ensure it shuts off when the temperatures get too high. The heater won't turn back on until it has cooled off. Also, it is designed to prevent it from tipping over.
Click here for the latest price
Conclusion
Taking a heater with you during your next camping trip is highly recommended. This will make things more comfortable so you can avoid freezing at night. Before heading out, you'll want to choose the heater that will work best for you. One of the aforementioned tent heaters will likely work great for you.