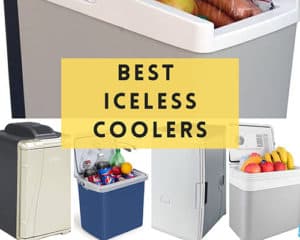 Summer is here and the weather is already blazing out. With many 90 to 100-degree days ahead of you, it will be pertinent to ensure that you are staying properly hydrated. This is especially true for the every day average individual that'll be out there working in this heat. It'll also be true for people vacationing and participating in outdoor activities. Even if the weather wasn't this hot, no one wants to drink a cold soda or eat a hot salad. This is exactly why coolers were invented.
They make the perfect travel companion that you can take just about anywhere with you to keep your food and drinks cold. Maybe you've got worms for a fishing trip that you want to keep cool, maybe it is beers for a tailgating event, or maybe it is a fresh salad. Whatever the situation, an electric cooler or also referred to as the iceless cooler can offer the perfect solution.
Click here to see the best iceless cooler
Best Iceless Coolers Compared and Review
Our Top 5 Picks
Model
Coleman Iceless Electric Cooler
Koolatron P20 Compact Electric Cooler
Last update on 2023-09-18 / Affiliate links / Images from Amazon Product Advertising API
1. Coleman Cooler Iceless Electric Cooler
When it comes to coolers and camping equipment, Coleman is a basic household name. As basic as the name is, they are known for creating some of the most innovative camping and outdoor products available on the market. It is safe to say that their ice less coolers are no different. After seeing everything that this iceless electric cooler here has to offer, you won't have any choice but to agree. The first thing you need to know about this portable thermoelectric cooler is that it has the ability to keep content 40 degrees cooler than the surrounding ambient temperature. And, it does this without ice, making it the perfect travel companion for long, overnight road trips.
More info: If you are looking for a slightly larger ice cooler, then check out our review of the Coleman 48 quart cooler.
Compact Portable Design
The Coleman Cooler features a compact and portable design that will fit easily in most cabins or trunks, but do not be food by its looks because it is more than spacious. With dimensions of 23.5 x 17 x 15.3 inches and additional built-in trays, there is more than enough room to keep all your desired food and beverages organized and chilled. You combine this with the fact that the door to the cooler can be opened from the left or the right, and you are looking at complete convenience in one handy little package. The device also comes along with a 12-volt plug and 8-foot power cable that gives you plenty of flexibility when it comes to powering the device. The device can easily and quickly be powered via a car or boat outlet.
Click here for the latest price
2. Igloo Iceless 40-Quart Cooler With 110-Volt Converter
Whether you are shopping for a plug in cooler or a traditional one, Igloo is likely another household name that you are familiar with. You've likely at least seem the name around before, as the company has been in the cooler industry for a long time now. That being said, when it comes to iceless coolers, it is more than hard to find many that'll offer everything this bad boy offers. This portable plug in cooler makes the perfect travel companion for anyone going long distances and wanting to keep their food and drinks cold without the need to mess with ice. Just simply plug the 12-volt DC receptacle into the outlet of your car and you'll have ice-chilled beverages in just a matter of hours. Without the need for ice, you can literally fill this 21.88 x 16.75 x 15.25-inch cooler to the brim.
Quiet Brush Less Motor
While the outside polypropylene design of this Igloo plug in ice chest in no doubt impress, it has to be the quiet brushless motor that is the most notable feature. This along with the convention cooling fan and you'll circulate cold air around the items inside, allowing you to keep them much cooler for longer periods of time as well as cooling them quicker. Simply put, you get convenience and efficiency with this bad boy right here. Couple this with the fact that there is a 110-volt converter that allows you to bring the device in the hotel room with you, and you are looking at the ultimate travel companion for any situation.
Click here for the latest price
3. AstroAI Electric Cooler 26 Quarts/24-Liter
Unfortunately, AstroAI is likely not a name that you are familiar with when it comes to coolers. And, that's more than okay because you are about to see that this plug in car cooler is more than impressive in its own right. In fact, with its ability to store and cool 30 cans at one time, it could easily be one of the most impressive plug in car coolers available today. Not only does it store 30 cans at once, but it comes with removable dividers that'll allow you to better organize your content. Whether it is soda, beer, wine, food, or fishing bait that you are keeping cool, you'll also be able to stay organized for quick and easy access in the process.
Power Switch
The AstroAI plug in cooler for car not only comes with an amply lengthy 12-volt power cable, but it comes with one that has a built-in power switch. The power switch has a convenient built-in on and off switch so that you can easily switch the device on and off, rather than plugging and unplugging the device every time you want to use it. In addition to this, it comes along with a reinforced socket that provides safety as well as durability for years and years of reliable use. Never use the device when the vehicle is running, as it will drain the battery and avoid plugging the device into heavier-duty 24-volt plugs, as it'll likely fry the electrical system, but other than that, you'll be all set to go on the electricity side of things.
Click here for the latest price
4. K-Box Electric Cooler And Warmer
When it comes to plug in coolers, it'll be hard for even today's top models to match what the K-box cooler has to offer. And, that's because this device is not only capable of cooling and chilling your favorite foods and drinks, but it is capable of warming as well. Combine this with its 34-quart design, and you are looking at one of the best plug in car coolers that is more than capable of serving your every need. The 34-quart design can store over 48 cans of soda or a large 2-liter bottle and still have plenty of room left over for food and snacks. This along with the 2 divider compartments, and you won't have a problem staying organized.
Plugs In Anywhere
To make this bad boy more convenient, it was designed with 2 built-in power cords. One was specifically designed for standard wall outlets, while the other was designed for car adapters. Whatever the situation and your power requirements, you'll be ready to go without the need of purchasing additional adapters and plug ins. Despite the storage capacity, this cooler features a compact design that makes it easy for one individual to handle alone. It can easily be stowed in car trunks and seats to handle all your traveling requirements. Combine this with the ergonomic handle, and this cooler will be a true joy to take on the road as the perfect travel companion.
Click here for the latest price
5. Koolatron Pro 12V Compact Electric Cooler And Warmer
Here is another cooler and warmer in one! This cooler might only come available in a gray color scheme and feature a slightly smaller design of 17 liters, but it is certainly more than impressive in its own right. In fact, it can still house a total of 23 cans, and its unique slim design makes it a device that can easily fit between seats. This bad boy is capable of cooling to 40 degrees F below the surrounding ambient temperature, while it has the capabilities of heating to 135 degrees F in the warming mode. With a slight amp draw of just 4 amps, you'll never have to worry about overloading your vehicle's electrical system.
Hard-Sided Durable Design
You won't have to worry about being too gentle with the Koolatron Cooler because it was specifically designed to take a beating thanks to the hard-sided durable plastic design. These travel coolers are mane of durable hard plastic with smooth easy-to-clean plastic liners that make maintenance and cleaning easier than one would ever imagine. Heck, easier than the activities should probably be. Not only is the design slim and compact, providing easy storage, but the lightweight, easy-to-open lid without latches makes for the ultimate grab-and-go convenience whenever you need a quick drink or snack on the go. All coolers are made right here in North America and are only constructed of the highest grade materials. The manufacturers are so confident that you'll love this cooler and it'll function that they back it with a one-year warranty.
Click here for the latest price
6. Knox Electric Cooler And Warmer
Whether it is durability, convenience, dependability, reliability, quality, cooling, or warming that you are looking for, you will find it with this Knox electric cooler. This one is easily one of the most impressive plug in car coolers on the list today, as it not only includes all the essential features that a warming/cooling cooler needs, but it includes more, making it all that more convenient and useful. With its 48-quart interior chamber, you won't have a problem keeping an abundance of food and drink items cool or warm. The inside of the cooler measures to be 17 inches x 12 inches x 11 inches while the outside is 22 inches by 15 inches by 15 inches. This cooler could literally store two 2-liter sodas standing straight up! Not only this, but there would be room still left over for your favorite foods.
Built-In Wheels And Handle
Given the size and dimensions of this cooler, you might think that it'd be a bit more difficult to handle than the other mentioned here. Well, there is no denying that it might be a bit heavier when fully loaded down, but it features a handy and convenient built-in rolling system and handle that makes transportation all that much easier. Simply roll the cooler to wherever it is needed! There is also an easy built-in locking mechanism system that'll keep the lid tightly sealed and secured at all times, ensuring that the inside temperature of the cooler is always maintained.
Click here for the latest price
7. Alpicool C15 Portable16 Quart Cooler
One look at the Alpicool Vehicle Cooler and you'll instantly fall in love. It'd be hard not to with it sleek and beautiful body design. While this is easily one of the best-looking coolers on the list today, it is also one of the best-performing, as it is capable of cooling food and drink items to as low as -4 degree F. That's right, -4 degree F. And, if that wasn't impressive enough, the product was specifically designed to run with small solar systems as well. With dimensions of 22.4 x 12.6 x 10.2 inches, this cooler is capable of easily storing 15 cans of soda at one time. That's literally a capacity of right around 15 liters, more than enough for any traditional outing for a small family.
Protects Your Vehicle's Battery
A lot of electric coolers today can be hard on your vehicle's battery, as they require a lot of juice and power. As powerful as the Alpicool C15 is that won't be the case with this cooler. And, this is all in part thanks to the car battery protection with memory function. This function features 3 different levels of protection. Low, medium, and high. All are designed to protect your vehicle's battery from damaged and run down. Combine all the above-mentioned features with the hard plastic shell outer design, and you are looking at one convenient cooler that'll be able to take a literal beating. The cooler also features sealing technology coupled with high-density foam insulation to provide the best possible cooling properties that a cooler could ever offer.
Click here for the latest price
8. Koolatron P75 12V Electric Cooler And Warmer
After seeing everything that the first Koolatron Cooler had to offer, it probably doesn't surprise anyone to see another on the list. That being said, this model should by no means be mistaken for the other one mentioned earlier. Although they share a similar name, the two coolers are completely different with their own unique features. In fact, this one features an energy-efficient design that only is enough of a reason for investment. The energy-efficient design utilizes less power than what your tail lights do, not only making it energy efficient but making it safer and easier on your vehicle's battery. Couple this with the lightweight, durable design that can store nearly 60 cans of soda, and you are looking at one spacious cooler.
Store Vertically Or Horizontally
This Koolatron Cooler also features thermoelectric cooling technology that guarantees your food and drinks will stay cool and chilled whether you are on the road or at home. However, what's even more impressive is the cooler's ability to be stored and hauled in either the vertical or horizontal positions. This gives you the ability to stow the cooler in a variety of areas. This Koolatron, like the other mentioned on this list, also offers heating and cooling technology. It can cool food and drinks to 40 degrees F of the surrounding ambient temperature or it can heat food and drinks to 135 degrees F. These features easily make this one of the best iceless cooler models on the list.
Click here for the latest price
---
Types of Iceless Coolers
While you are searching for the best iceless cooler, you'll find that there are two basic models to choose from. These would be the iceless cooler, which is nothing more than a freezer/fridge and the thermoelectric cooler. Given that the best iceless coolers are nothing more than freezers or fridges, they use a motor-driven, electric compressor, similar to that of your traditional household kitchen fridge. The thermoelectric cooler, on the other hand, is much more portable and features technology that is capable of both cooling and heating food. The first obvious downside to the mini-fridge is that it'll be heavy in nature coupled with a significant design.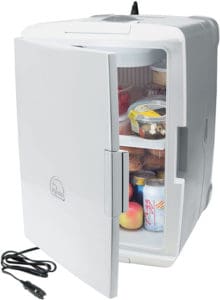 Not only this, but they'll like come along with a higher price tag, given their size and design. However, they do feature the ability to achieve and maintain cooler temperatures in less time than compared to their counterparts. If you're planning an extended road trip with the family, it will be the thermoelectric cooler that'll likely be your go-to option. This is because they utilize 12-volt DC plugs that easily pair with your vehicle's electrical system. And, while they are not capable of cooling as fast as the iceless cooler, they will eventually reach a desirable temp as long as the vehicle is running.
---
What To Look For When Choosing An Iceless Cooler
The thermoelectric coolers are no doubt ideal for the long road trips with the family, which means that are tons of them available. The real problem will lie within trying to choose the right one for your specific situation. This is why you must know exactly what features to look for.
Consider Your Storage Needs
The first thing you'll notice is that these coolers are available in a wide range of sizes and designs. This is the very factor that will determine what types of items your cooler can store as well as how many items it can store. Since these devices are meant to be portable, they won't offer the storage capacity of a traditional fridge, but that doesn't mean they can't handle quite a few items.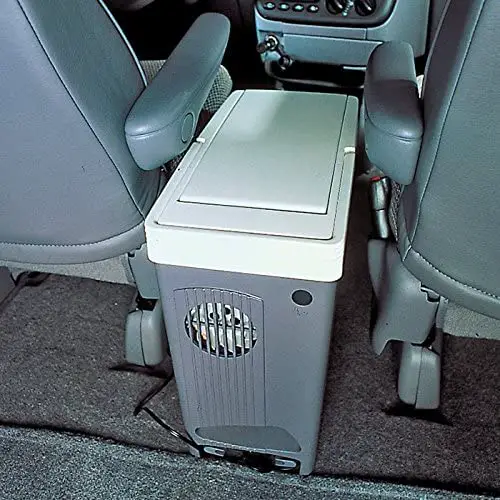 And, given the fact that they don't require ice for cooling, it'll give you the ability to better organize while also storing more. Consider how many items you are going to be storing as well as the number of items you'll need for your trip and this will help you determine the size of cooler you need.
Power Source Access
These portable coolers work when they are plugged into a 12-volt DC outlet. However, there are some that can also be utilized with 110-volt AC outlets as well. These models will usually come with built-in converters. This will allow you to use the cooler in the car and home. If this is a feature that you'll be interested in, make sure it is something you consider when shopping.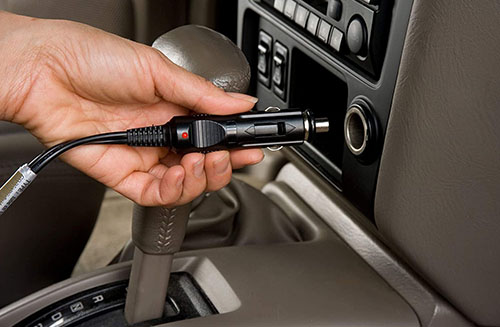 The Cooling Temperature
Unlike traditional coolers and refrigerators, these portable models rely heavily on ambient temperatures. This means that the outside temperature can affect how effectively your portable cooler cools. Obviously, the hotter the outside surrounding temp, the harder it will be to cool. You'll want to consider the weather conditions that you'll be traveling in and factor them into your decision. Choose a model that'll be able to keep up with the conditions you'll be traveling in.
Consider How Portable The Device Is
Given that you'll be taking this cooler on the road with you, you'll want it to be extremely portable. It'll need to feature a compact design that still offers ample storage. Ergonomic handle and smaller designs come in handy if you plan on picnicking, camping, or hiking. If you just need a model for the car, you might be able to shop for bigger models that offer more storage capacity. Simply put, you'll want to choose a cooler that fits with the activities that you'll be undertaking.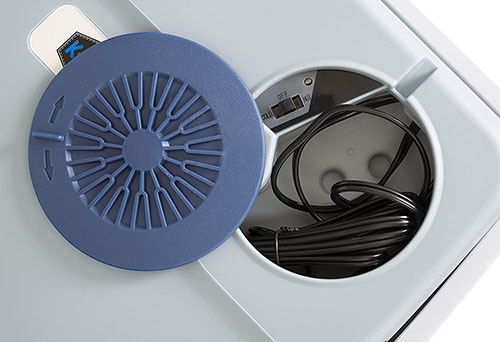 The Price Will Matter
Unfortunately, there are no two budgets that are the same. Some individuals might be able to afford more, whereas others might not be able to invest as much. At the end of the day, it really comes down to what you are looking to spend. That being said, with all the available makes, models, and designs available today, you shouldn't have a problem finding a quality cooler that fits in with your specific budget. Whatever the situation, you'll want to review these appliances by looking at the features and ultimately selecting the models that offer you more for less.