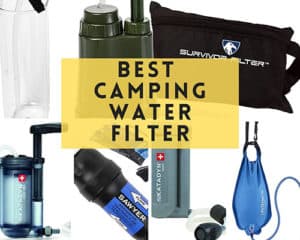 While it is not necessary, many people filter their water when camping in recreational vehicles. To do this, a high-quality water filtration system is required. How does a water filtration system work? What is the most crucial component of a water filtration system? First and foremost, you must know what a water filtration system does. It is a system comprised of granular activated carbon, a filter, and a capsule. Everything is integrated into the capsule that allows water to flow freely from one end to the other end, filtering the water in the process.
The primary component of a water filtration system is the filter. This component plays a major role in the filtration process. With the right, high-quality filter, it is possible to remove up to 99.99 percent of contaminants found in tap water. Below, you will discover a list of water filters to consider to ensure you get it right the first go-round.
Click here to see the best camping water filter
Best Camping Water Filters Compared and Reviewed
Quick Top 5 Comparison
Table could not be displayed.
1. Survivor Filter Pro Filtration System
The filtration system by Survivor Filter Pro is designed to remove 99.99 of contaminants in water. The system utilizes a three-step filtration process to remove viruses, bacteria, mercury, and lead, as well as other contaminants. What the first and second stages do not remove, the third stage will up to 99.50 percent of bacteria, such as staph, and 93 percent of mercury.
The Survivor Filter Pro has been tested multiple times in several American-based laboratories. It has also been compared to several residential filtration systems. The comparisons revealed the Survivor Filter Pro matched or exceeded the residential filtration systems. If you are looking for the best camping water purifier for your RV, look no further than this brand.
The Survivor Filter Pro is described by many American consumers as the "best portable water filter" because it is so compact and lightweight. The system comes with a dual filter that is embedded with a dual hollow fiber membrane and carbon to deliver a high-efficiency volume compared to some other brands. In fact, the filter filtrates at 0.2 microns, which is significantly higher than most of its competitors.
When you purchase the Survivor Filter Pro, you are guaranteed 100 percent customer satisfaction. If for some reason, you are dissatisfied with the filtration system, you can return it for a full no-hassle refund. As long as it is returned before the guarantee deadline, the Survivor Filter Pro will refund your money.
The Survivor Filter Pro is backed by a lifetime manufacturer's warranty. This is one of the best manufacturer's warranties offered with the best camping water filter systems.
Click here for the latest price
2. LifeStraw Flex Advanced Water Filter
If you are an on-the-go person, you probably do not camp in a recreational vehicle. In this case, it is even more pertinent to filter your water before consumption. Streams and creeks are notorious for bacteria and other contaminants that are harmful to human health. If your plans are to drink water out of a creek or stream during your outdoor adventure, the LifeStraw Flex Advanced Water Filter is key to staying healthy.
LifeStraw Flex is one of the best portable water filter systems on the market. The setup is simplified to ensure filtration efficiency on all levels. It comes with a hollow fiber membrane, carbon fiber capsule, hanging hook, and hose. All of these components mesh together to remove up to 99.99 percent of protozoa, bacteria, and other contaminants in creeks and streams.
LifeStraw Flex is also the best gravity water filter systems on the market. It relies on gravity to filter contaminants out of water. You simply hang on a tree and let the filtration system do the rest. The system is designed to handle up to 500 gallons (2,000 liters) of water before it needs to be replaced. In the meantime, you can replace the carbon capsule to ensure the highest level of filtration.
As mentioned previously, LifeStraw Flex is a portable filtration system. To ensure the highest level of portability, the LifeStraw Store utilized lightweight materials and simple design. These qualities are combined together to deliver portability on all levels. It is also a diverse water filtration system, as it offers four methods of usage.
Click here for the latest price
3. Katadyn Hiker Microfilter Water Filter
The Katadyn Water Filter is very unique, as it is designed to improve the taste of water. Not many brands can guarantee this capability like Katadyn. To deliver better-tasting water, the Katadyn Hiker utilizes a carbon core, which is integrated into the filtration system. The carbon core filters contaminants associated with bad taste, resulting in fresher, cleaner water.
The filtration system only has two components – the filter and hand pump. Utilizing the hand pump, you can refill your water bottle in minutes with little to no effort. This is the best portable water filter for travel. Drinking water straight from a creek, river, or stream is out of the question. With so many harmful contaminants, these water sources are no longer considered 100 percent safe. In fact, evidence shows cold water sources contain CTX toxins that are harmful to human health. CTX toxins have been linked to dehydration due to diarrhea and an increase in water secretion.
Along with a high level of portability, the Katadyn Hiker is virtually maintenance-free. The filtration system is designed to minimize clogging and backflushing. If you are familiar with this process, you know how difficult and time-consuming it can be to remove clogs. With the Katadyn Hiker, clogs are never an issue. And, if you do experience a clog, it will be very seldom.
The Katadyn Hiker can filter up to 200 gallons (750 liters) of water throughout its lifetime. This capability will give you many years of filtration. Utilize it when camping, hiking, four-wheeling, and other outdoor activities.
Click here for the latest price
4. Katadyn Hiker Pro Transparent Water Filter
There is no doubt, outdoor activities are enjoyable but risky. This is especially when dealing with natural resources, such as cold water. It is not unusual for backcountry hikers to drink out of streams, creeks, and rivers. While this is natural, it is also very dangerous. Studies reveal that cold water sources contain harmful contaminants that can cause temporary and permanent health conditions. To avoid these risks, the Katadyn Hiker Pro is a necessity.
The Katadyn Hiker Pro is one of the best water purification systems for hiking, camping, four-wheeling, and other outdoor activities. The filtration system is constructed from high-quality synthetic materials. This high-quality construction offers years of clean, fresh, filtrated water. The system is capable of filtering up to 11 ounces of water per usage. This is enough water for at least two people. The filtration process only takes a few minutes and does not require special tools or skills.
The filter comes with a hand pump and plastic tube to transfer water from the system to water bottles. In five minutes, you can filter water from a stream or creek to fill your water bottle, which should carry you over for a few hours. The plastic tubes help keep the entire process clean, eliminating any contact with water bottles and mouths.
The compact, lightweight design ensures the highest level of portability. The system weighs approximately 11 ounces empty and measures approximately 6" H X 3" in diameter. The weight of the filter should not burden you down empty or full.
Click here for the latest price
5. Sawyer Products Squeeze Water Filtration System
The Sawyer Water Filter is ideal for individual hikers. The design replicates a small juice or water bottle to ensure the highest level of handling, convenience, and efficiency. The filtration system comes with a filter, two squeeze pouches, a syringe, a tote bag, and tubing. Fill the squeeze bags with cold water from a stream, creek, or river and transfer into the filtration system. The water will flow directly through the system into your water bottle. The entire process takes about five minutes, depending on how many water bottles need to be refilled.
The construction is BPA-free, which is always good news for health enthusiasts. BPA is a toxin linked to various medical conditions, including erectile dysfunction, infertility, intestinal problems, heart disease, and hormone issues.
The Sawyer Squeeze Water Filter System is backed by Hydration LLC, an independent, third-party laboratory. It meets or exceeds the Microbiological Report 505-03.
The system includes a mesh storage pouch. You can store all the included components into the storage pouch before your outdoor expedition. Remove the components and repeat the process again during and after each usage.
What makes the Sawyer Mini Water Filter so unique is its filter membrane that is shaped like a "U". This design ensures a higher level of filtration efficiency compared to other designs. It allows the water to flow freely through the filter, removing 99.99 percent of the contaminants found in cold water.
A comparison of the Sawyer Squeeze VS Mini reveals several differences and similarities. The differences include size, design, and weight. The similarities include construction, quality, and efficiency.
Click here for the latest price
6. MSR MiniWorks EX Microfilter Water Filter
The water filtration system by the MSR Store has a unique design with eye-appealing aesthetics. The multi-colored design with brand logo and large pump handle bring a lot of attention to the water filter. This is one of the best camping filter systems for the on-the-go hiker, outdoor enthusiast, and survivalist. If you are concerned about your health, you definitely want to avoid drinking contaminated water from streams, creeks, and rivers.
Instead of having a separate hand pump, the MSR MiniWork EX has an onboard hand pump. This design offers more convenience that those with a separate hand pump. The hand pump is attached to the lid of the filtration system. A few pumps will drive water into the system. Keep pumping until the filtrated water enters and exits the tube into your water bottle.
The entire system comes with only four components, the tubing, filter system, lid, and water bottle adapter. The assembly process is very simple. Just screw on the lid with a hand pump and tubing before each use. You can also utilize the pump as a water storage reservoir by replacing the lid with hand pump with the traditional screw-on lid.
The system is designed to filter up to 2,000 liters of water. Weighing in at only one pound, you will never be burdened down by the MSR MiniWorks EX. The system is backed by a limited lifetime warranty, which covers manufacturing defects and malfunctions.
The MSR MiniWorks EX is produced in a Seattle, Washington-based facility. This alone validates the quality of the system.
Click here for the latest price
7. Sawyer Products One-Gallon Gravity Water Filtration System
Sawyer is one of the most respected manufacturers of water filtration systems. You can buy this company's products knowing they're going to last and work exceptionally well. If you're eager to buy a gravity water filtration system, you'll want to add the Sawyer Pro One-Gallon Filtration System to your cart. While slightly expensive, it'll prove to be worth it. After all, it can hold and treat 1 gallon of water. Furthermore, consumers can rest assured knowing that 100% of MINI units are individually tested three times before being sold to the public. Since this is a gravity water filtration system, you can guarantee that it is going to work great for the intended purpose.
You'll receive everything you need including a MINI water filter, 1-gallon bladder, cleaning coupling, gravity hose, adapter, and cleaning plunger. This gravity system is slightly different because it comes with only one container. You'll need to place the water into a bottle or another container. This means that you'll need to buy the filtration system and a container for the clean water. Still, it can filter up to 100,000 gallons without needing to be replaced. Plus, it'll eliminate 99.9% of bacteria and protozoa.
Click here for the latest price
8. Platypus GravityWorks 2.0 Liter Complete Water Filter Kit
The Platypus GravityWorks Water Filter Kit is not suitable for everyone but it will work great for many. The biggest problem with this kit is the fact that it'll consume more space. Since it is a gravity fed filter, you'll have two containers and a filter in the middle. You'll need to hang one from a tree and leave the other container on the ground. While it will take up more space in your backpack, it'll prove to be worth it. Gravity fed filters tend to work better than the others. You'll also appreciate that this filter can clean and hold 2 liters of water at once. Once you've finished cleaning the water, you'll likely have enough for the night. You won't need to stop by the creek again until you wake up in the morning.
This unit features a replaceable cartridge filter that can treat up to 1,500 gallons. It offers a flow rate of 1.5 liters per minute. With this water filter, you won't have to sit around and wait. It'll clean your water quicker than some of the others. When you've used the filter for 1,500 gallons, you'll need to replace the filter. Doing so will be quick and easy. More importantly, this filter is very effective since it meets all EPA and NSF guidelines. It will remove 99.9% of all bacteria and protozoa. It'll make your water safe so you can drink as much as you want without concerns.
Finally, you should know that the Platypus GravityWorks Filter Kit is made in the United States. You know it is going to last a lifetime.
Click here for the latest price
9. Sawyer Products Micro Squeeze Water Filtration System
For some, the Sawyer Filtration System will be the best camping water filter. It offers an abundance of benefits and it won't break the bank. This product is inexpensive but it works exceptionally well. The reusable 0.1 micron water filter ensures that you're going to have clean water at all times. Whether you're taking water from rivers, streams, or lakes, this water filtration system will do the trick. You won't need to use any chemicals and won't have to worry about changing or replacing batteries. The Sawyer Products Micro Squeeze System works without any of these things. Thanks to its compact size and ease of use, this filtration system is great for campers, hikers, and emergency situations.
The filter is rated up to 100,000 gallons so you'll be able to use it over and over again. It comes with everything you need to get started including a reusable squeeze pouch, cleaning coupling, spare gasket, cleaning plunger, and drinking straw. This system is very effective because it can get rid of 99.99% of all bacteria. It will eliminate cholera, e.coli, and salmonella. It'll get rid of all protozoa too. The Sawyer Micro Squeeze Water Filter is very small. It'll rest comfortably in your hand and it weighs 2 ounces.
This makes it a good choice for camping and backpacking. The reusable squeeze pouch collapses so you can store it in your backpack conveniently. When you're using it, you'll be able to carry 32-ounces of water.
Click here for the latest price
10. SteriPEN ULT-MP-EF SterPen Water Purifier
Spending more sometimes means you're going to receive a better product. If you agree with this assumption, you'll want to purchase the SteriPEN UV Water Purifier. While it is expensive, it'll prove to be worth it because it is lightweight, easy to use, and very well. This smaller water purifier measures in at 7.3 by 1.3 by 1.6 inches. It weighs less than 1 pounds. You won't have any problem taking the SteriPEN Water Purifier with you. Stick it in your pocket, bag, or backpack and you won't even realize it is there.
You'll also appreciate that this tool uses UV light to eliminate bacteria, protozoa, and viruses. While lower quality water purifiers may leave behind contaminants, this purifier will not. It is more effective than many of the alternatives. Also, it should be noted that this purifier will clean your water in less than a minute. Thanks to the simple OLED display, you'll always know what is going on. You'll be able to look at the screen and quickly find out when the treatment is finished.
The display will also tell you about the status of the battery and more. This product is cost-effective since it features a USB rechargeable battery. This guarantees that you'll be able to quickly charge the battery from anywhere. You only need a battery bank. You can recharge this device using a computer, wall outlet, or solar panel.
Click here for the latest price
---
Types Of Camping Water Filters
Before you can find a good camping water filter, you need to find out about the different types. They're plentiful and the type will make a big difference. For instance, some of these products use UV light to purify the water. Others use an internal filter to remove bacteria and other contaminants. Below, you'll learn more about the various types of camping water filters and the perks associated with each.
Straw Filters
First and foremost, you'll find some filters that resemble straws. These filters tend to be very easy to use and they're effective. They're great because they can remove nasty odors from the water. They're lightweight and easy to take with you anywhere. Since they look like a big straw, you can throw the filter in your pocket or backpack and walk through the woods. You'll also find that they work similarly to straws. Before you can start using a straw filter, you'll need to be close to your water source. You'll need to place the filter halfway into the water before drawing the water in.
It can be tough to start the flow process. However, once it starts, it won't stop. Since this type of filter is straightforward, it is easy to use and will work for everyone. Just remember that it will use a hollow-fiber membrane filter so it'll need to be replaced regularly. The membranes will stop the bacteria and prevent them from entering the water.
Pump Activated
Alternatively, you may want to consider buying a pump activated filter. This is a good choice for any avid camper because it doesn't require a lot of space. The only potential downside is that a pump activated filter will require some manual labor. You'll have to pump the filter to get the water flowing. You need to connect the lead line to a water source. The other end has to be connected to the receiver. Once you've done that, you'll need to use the pump to get the water to flow from the source to the receiver. Along the way, the water will be filtered using ceramic or fiber filters. These filters often use activated carbon to help get rid of the contaminants in the water.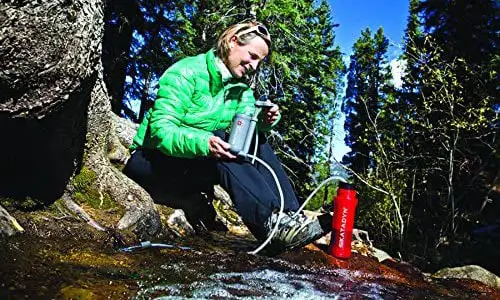 With ceramic filters, you will have a surface of 0.5 to 1-micron pores. They're very effective at blocking contaminants and stopping them from entering the clean water. However, there is always a risk that smaller bacteria will slip through the cracks. The best way to prevent this from happening is by using a ceramic filter with activated carbon. With this filter, the pores will be even smaller making it impossible for the contaminants to get through the cracks.
Bottle Filters
You will also find bottle filters. These filters are very helpful but they can only purify a small amount of water. The bottle will feature the filter and container. The cartridge will remove the contaminants from the water while the bottle will hold the water. This ensures that you're able to maintain a safe supply of water at all times. The only problem here is that you'll need to fill the water bottle regularly. The filter cartridge will take advantage of fiber filters to ensure that the water you're going to drink will be safe. Some bottle filters will use activated carbon filters though. Bottle filters are very similar to fiber filters in terms of functionality. If you've used one, you'll easily be able to use the other. Since the bottle features a filter, you can rest assured knowing that you'll only drink clean water.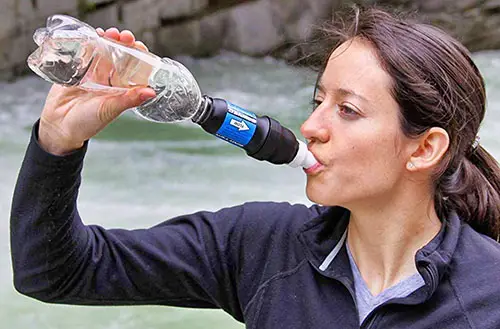 Bottle filters used advanced carbon filters with tiny pores. This ensures that they're capable of stopping those harmful chemicals and microorganisms. With a bottle filter, you'll be able to the clean water without worrying about the cartridge. The only slight problem with these filters is that they're not great for removing dissolved salts. Still, they work exceptionally well for everything else.
Gravity Filters
Gravity filters are very popular because they rely on gravitational force to clean the water and make it ready for consumption. With a gravity filter, you won't need access to electricity and you won't have to pump anything. However, you will need two containers. One filter must be placed above the other. For instance, one filter can be placed on a branch nearby. Another will be placed on the ground. Water is added to the topper tank and it will begin flowing toward the bottom tank. As it travels through the lines, it will be cleansed by filters. By the time the water makes its way to the second container, it is clean and ready to drink.
Most gravity filters will use ceramic and carbon filters to clean the water. The unique action filters used are very effective for providing the user with the cleanest, safest water possible. These filters can eliminate protozoa, viruses, parasites, and bacteria. They'll also get rid of pesticides and herbicides. Since they'll remove chlorine from the water, they'll make it taste better too. However, gravity filters tend to be bigger than some of the others.
This can make a difficult to carry gravity filters to the campground.
UV Filters
Finally, you'll want to learn more about UV filters. These filters are very beneficial because they're compact and lightweight. With UV filters, you can stick them in your pocket and be on your way. Furthermore, you won't have to worry about breaking a sweat. You'll be able to grab the filter and be on your way. UV filters are compact, lightweight, and effective. When it comes to UV filters, they're great for removing parasites and bacteria. However, they're less effective at removing heavy metals and chemicals. They're also slightly expensive to run since you may need to replace batteries regularly.
The good news is that UV filters work rapidly so you won't have to wait too long. Plus, these filters will enhance the taste and smell of your water. Finally, you'll be thrilled to know that the UV filter is not going to remove the beneficial minerals from your water.
---
What To Look For When Choosing A Camping Water Filter
As someone who is going to be camping regularly, it is pertinent to buy a good camping water filter. Otherwise, there is a risk that you're going to drink something nasty and get sick. Just remember that choosing a filter will be difficult. Since your options are plentiful, you'll likely have a tough time making your decision. You'll also want to focus on a few key characteristics so you'll know you're getting the best product. Below, you'll learn more about choosing a camping water filter so you can get the most for your money.
Size
First and foremost, you'll want to consider the size of the water filter. This is one of the most important aspects of all since you're going to be traveling. You'll want a smaller filter that will fit inside of your backpack. Otherwise, it'll be bulky and cumbersome making it difficult for you to carry the rest of your belongings. To solve this problem, you should choose a smaller water filter. One that measures 7 by 2 by 2 inches is great for this purpose. It'll filter the water without consuming too much space in your backpack.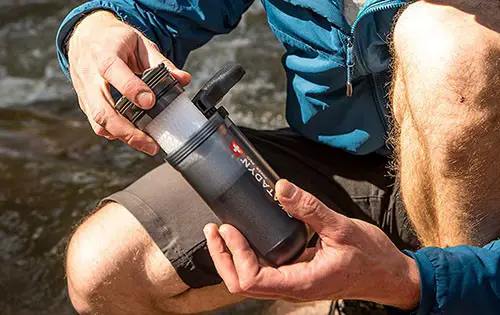 Weight
Another thing to consider is the weight of the camping filter. Again, you don't want something that is going to be bulky. So, you'll want to choose a smaller and lighter filter. With a smaller filter, you'll be able to haul it around without any issues. You can throw it into one of the pockets on your backpack and hit the road. Choose a lighter water purifier and you'll be glad you did.
Battery
Before going any further, you'll likely want to choose a battery-powered water filter. This is convenient because you'll be able to easily take and use the filter anywhere. The only downside is that the battery life is likely going to be limited. It is best to read camping water filter reviews so you can find out how long the battery is going to last. You'll want a long battery life so you can continue using the water filter throughout the entire camping trip.
Effectiveness
When scanning through camping water purifier reviews, you'll want to make sure that you choose an effective water filter. This is the most important aspect of all. If the filter is not effective, you're going to be throwing your money in the garbage. How effective is the water filter? Well, you'll want to buy one that can remove 99.99% of all bacteria. It should be able to remove 99.99% of all protozoa as well. This will ensure that your water is going to be free of salmonella, E.coli, cholera, and other dangerous bacteria.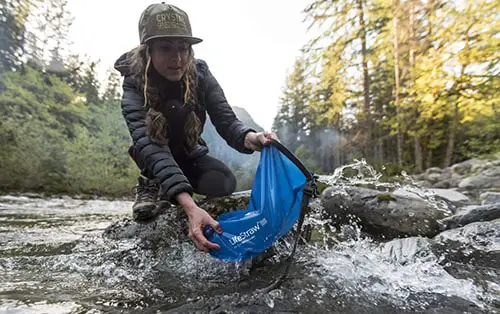 Ease Of Use
When you're out in the wilderness, you won't have time to think about much. You'll work quickly to set up your tent and begin collecting firewood. Once that is finished, you'll want to bottle some water and purify it as quickly as possible. Suffice to say, you need a water purifier that is easy and easy to use. If it is too complicated, you'll likely run into various issues and you may not get the desired results. Some filters use UV light to eliminate the germs in the water and stop them from making you sick.
These filters tend to be some of the easiest to use. You have to stick one end down into the water and touch the button. The filter will do the rest. The LED display on the front will let you know when the water has been purified. For the rest results, you should choose a water purifier that is easy to use. The best camping water filter for you is the one you can use easily.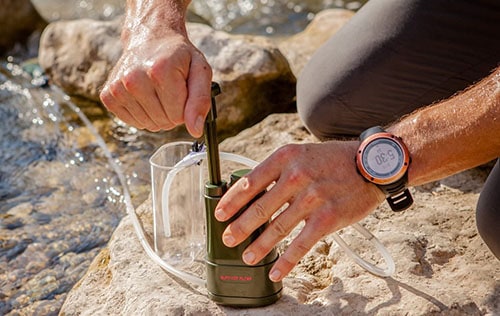 Replacement Filters
With many purifiers, you'll have to replace the filter regularly. Otherwise, the filter will lose its effectiveness and it'll no longer be helpful. So, how long will the filter last? It depends on the product you're buying. Some camping water purifiers come with a filter that is rated up to 100,000 gallons. This means that you can purify 100,000 gallons before needing to replace the filter. This is very good and prevents you from needing to buy replacement filters regularly. Make sure that your filter works for a long time or your purifier will end up costing you too much money in the long run.
---
Further camping gear info
If you are looking for other camping gear recommendations, then check out our best camping tables, best sleeping bags for warm weather and best tent cots buying guides.