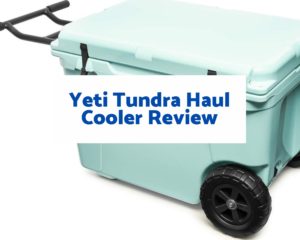 If you've always liked the style, build quality and performance of the Yeti range of coolers but need a model that offers increased portability, then the Yeti Tundra Haul could be the one for you.
Let's address one thing straight away though. This is not a cheap cooler. Expect to pay around $400 retail for this specific model. Yeti coolers are known for their premium pricing and the Haul is one of the most expensive in Yeti's Tundra line up (although you can pay over $1,000 for the Tundra 350!).
Wheeled coolers such as the Haul are great for camping and fishing trips, whether that's for one day or more. With the Haul its all about the portability rather than the outright cooling capacity.
So how does the Yeti Tundra Haul cooler compare?
Click here for the latest price
Technology
They may be expensive but Yeti coolers are well known for their tough construction and impressive ice retention times (for some of the best coolers for ice retention click here). Similarly to other coolers in the Tundra range, the Haul is rotomolded to ensure tough build quality. This is backed up by a 5 year guarantee, although the cooler will last a lot (lot) longer than this.
Another recognizable feature of Yeti coolers is the thick wall construction and the Haul has up to 2″ of insulation in its side walls. You also get a gasket seal on the lid which is another feature that improves ice retention. Reports vary on how long ice will be retained in this cooler, and it depends on a lot of factors, but in the right conditions, you can expect to still have some ice remaining after 5 to 7 days. This is great if you are going on longer camping or offshore fishing trips.
Unlike a lot of other cooler models, the Yeti Haul is available in 5 colors – our favorite is Seafoam. Similar to Igloo cooler models, the Tundra Haul has what Yeti describe as a "never fail" hinge system – this is due to the use of an interlocking design with two hinge pins. Based on what we know of Yeti build quality, it's unlikely the hinges will fail in normal use.
Capacity, dimensions and weight
The Tundra hall has a capacity of 55 quarts which equates to 45 can of beer (using Yeti's method of 1:1 beer to ice ratio). That plenty of space for a few days away although you'll probably run out of beer and food before the ice runs out! The inside of the cooler is spacious, but as with other wheeled models, there is some intrusion from the wheel arches.
Looking at external dimensions, the Tundra Haul measures 28″ in length and approximately 18″ to 19″ in both depth and height. Due to its hefty build, this cooler weighs in at 37lbs when empty but is likely to be over 100lbs when full.
This is not a cooler that's designed to fit into a small car. You're really going to need a truck or a vehicle with a large and easily accessible trunk.
Portability
The Tundra Haul is all about portability so it's no surprise to see the inclusion of a handle and wheels. The handle is made from aluminium and swings up from the side of the cooler rather than being a telescopic design (which can be prone to breaking). The handle also has grips to make it more comfortable to pull along.
The wheels are quite large to make travelling over rougher surfaces easier. They are quite "plasticy" though rather than having rubber treads and do tend to be quite noisy when moving over certain surfaces.
If you are looking for a cheaper portable cooler, then Igloo offers the Trailmate Marine and Trailmate Journey 70 quart coolers that feature large wheels and telescopic handles.
Features
As can be found on other Tundra models, the hauls features "T-Rex" rubber catches. They are not the only cooler manufacturer to use this style, but it does ensure that the catches will last longer and unlikely to break when outdoors.
To make draining easier, the Haul has a drain plug located in the side wall; with a cooler this size, you don't really want to be tipping it over to empty the water and any remaining ice.
Conclusion
If you love Yeti coolers, need a decent amount of space and require portability as a key feature, then the Yeti Tundra Haul is well worth considering. Yes, it is expensive, but Yeti is well known for their build quality and impressive ice retention times. Plus, it does stand out when it comes to design compared to a lot of cheaper coolers. Definitely one of the top wheeled coolers worth considering.
Click here for the latest price
Video