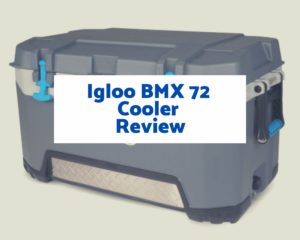 If you are in the market for an extra-large size cooler, then the BMX 72 quart cooler from Igloo is well worth a look. This large capacity cooler is great for extended camping and outdoor trips with plenty of space for your favorite foods and beverages.
Igloo has a wide range of coolers (both hard and soft-sided) and drinkware and their hard-sided cooler range consists of eight sub-ranges, with the "BMX" range being one of them.
This is not a cheap cooler, RRP is around $150, but it does offer good value for money at the more premium end of the market. An equivalent capacity Yeti cooler, the Tundra 75 (link) has an RRP of around $450!
So how does the Igloo BMX 72 cooler compare?
Click here for the latest price
Technology
As to be expected, at this price point you get a well-specified cooler in terms of design and technology. This is a very tough cooler, with heavy-duty blow moulded construction and thick insulated walls, all adding up to give it a rugged appearance and useful functionality.
Igloo is careful not to quote an ice retention time for the BMX 72, but you can expect up to 4-5 days before you start to see some significant thawing.
The BMX 72 features a very sturdy hinged lid which makes it easier for single-handed loading and unloading. The hinges are oversized to ensure that they will last the life of the cooler. If you do happen to break the hinges though, then spare parts are available from Igloo.
Capacity, dimensions and weight
The Igloo BMX 72 is a large-sized cooler with a generous capacity of 72 quarts. This equates to around 101 12oz cans – so no shortage of storage space.
Externally, the BMX 72 measures 32″ (length) and approximately 17″ in both depth and height. So quite a large cooler! For this size of cooler, you're going to need something big to carry it in, such as a truck or large family car. You are really going to struggle to fit this in a smaller car.
As the wall insulation on this model is very thick, not all of the BMX's external space is used for cooling, but it still has a large enough capacity!
This cooler weighs nearly 19lbs unloaded and by the time you add on the weight of the 75 quarts of ice and contents, it can become very heavy. Which brings us on to….
Portability
This is definitely a two-man carrying operation when loaded (if you don't want to injure yourself). Luckily, the BMX 72 has flip-up side handles with rubber grips so they are comfortable to use when carrying. The handles also have steel reinforcement to ensure they won't give way under heavy loads.
If you are looking for a similar sized wheeled cooler, then Igloo offers the Trailmate Marine and Trailmate Journey 70 quart coolers that feature large wheels and telescopic handles.
Features
Igloo has not held back on features for the BMX 72. To complement its rugged looks, it has rubber T-latch style handles (very similar to the more expensive Yeti models), a padlock locking point on the lid for extra security and plenty of stylish metal reinforcements to give it that rugged look as well as adding an extra layer of protection.
This cooler also features a handy fish ruler and we particularly like the drain plug that is threaded so can be used with compatible garden hoses.
Conclusion
If you are looking for a large capacity, tough-looking cooler, then we would strongly recommend the Igloo BMX 72. We love its rugged looks, quality build and useful features. Plus, at this price point, it offers very good value for money.
Click here for the latest price
Video