Wow…I cannot believe its only 3 weeks to our Euro 2018 road trip through France, Switzerland and Italy!
This week we've made some more progress with the equipment we need (we go UK camping but need more stuff for our 4 week Euro trip). The car we have (Nissan Qashqai) is too small to fit everything in we need so I've spent some time this week researching roof boxes. I finally went for the Thule Touring 200 roof box bundle from Halfords. This included the box, bars, foot pack and fitting.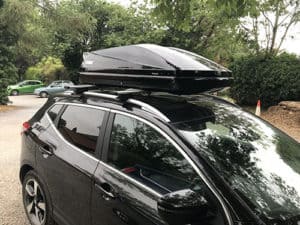 Total price was £438 but there was a 10% flash sale today (lucky!) so got the lot for £421.20, plus I also should get 4.5% cash from TopCashback.co.uk which works out at £18.95, so all in should cost me £402. For a high-quality product and the fitting, this does not seem (too) bad to me.
I bought the roof box from our local Halfords in Harrogate. Fitting only took about 15 minutes but I messed them about for about an hour as I purchased some Halfords online gift cards to cover the costs so I could claim the cashback (you cannot actually buy the roof box bundle online).
While in Halfords, Catherine took the opportunity to also pick up a few more items that we needed. These included:
Windbreak – we already have the traditional wooden pole and coloured fabric version but this doesn't fit in the car due to the length of the poles and the fact that the Qashqai does not have a rear seat ski hatch. Catherine found this Urban Escape windbreak for £15. It doesn't have great reviews but we'll try it out this weekend and the guys in Halfords said we could take it back if no good. The plan is to place this in front of the tent for both shelter and privacy
Folding chairs – we are doing well on the chair front as we already have 2 decent folding chairs from Halfords (Urban Escape ones similar to these) plus 2 Eurohike folding sofas from Blacks. We needed another two chairs though for the boys, so bargain hunter Catherine found these two Halfords chairs for £12 for 2. They aren't as good as the Urban Escape ones but seem a bargain to me. Again, we'll try them out this weekend.
I'll write a more detailed review of the Thule roof box later when we have lived with it a bit more, but initial impressions are good. We have already loaded it with most fo the folding chairs, shelf unit, etc and it holds a lot of stuff.
Also this week I researched and purchased an Outwell Emerson folding camping table from Blacks. This hasn't arrived yet in store to collect and I doubt it will in time for this weekend to give it a test run. This isn't really a problem though as we can always set it up in the back garden.
We still have lots to do in the next few weeks so I'll update again next Thursday.