As our Euro 2018 trip approaches, we have managed to get a few camping trips in with our friends and family over the last couple of weekends including a visit to Studfold in Nidderdale, Yorkshire and Wold Farm near Bridlington.
What we're realising is that although over the last year we have managed to purchase a decent amount of camping equipment, we are still missing a few key pieces. One of these is a table. Well actually a few tables, as we are looking for a normal height table that we can eat from and also a smaller "coffee table" for use on evening inside the tent.
Amongst our camping group, we have seen a few tables included the large roll-up aluminium camping tables and a nice Outwell table with a smart light wood top (although I think this was quite expensive at around £100+).
I have put this post together to share my research process as I thought it may help others who are looking at buying the best camping table.
The camping dining table
This will be the main table. It needs to meet the following requirements:
Able to seat our family of four and any guests (so maybe a six-seater)
Lightweight and fold up neatly (and easily)
Good quality and not cost too much (I would rather pay slightly more though for a decent quality one).
Research
The websites I used to start looking for a table were Blacks, Cotswold, Go Outdoors and Amazon.
Looking on the Blacks website, the first table that jumped out was the Outwell Emerson Foldable Camping Table, mainly due to its low (offer) price of £48 (note: further reduced to £38.40). I quite like the Outwell brand and we have one of the cooler boxes/fridges. This specific table measures 60x120cm and is 70cm high. No assembly is required and the extra supports on the legs make it look quite sturdy. The feet are also adjustable. For carrying it folds up and forms its own carrying case. Not sure if I prefer it to have a carrying bag though.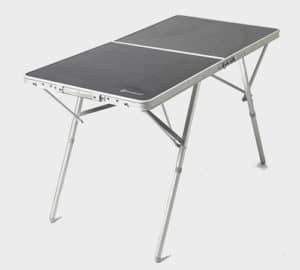 Moving on to Cotswold, the first thing I noticed was that their prices seemed a lot higher than Black with some tables over £100. The closest equivalent to the Outwell Emerson from Blacks seems to be the Vango Granite Duo 120 at £65. Strangely the site includes no table dimensions but it does say it seats six and I'm guessing that the "120" in the name means 120cm long. The Vango table seems to be a similar spec and appearance to the Outwell and folds up the same but I prefer the look of the Outwell.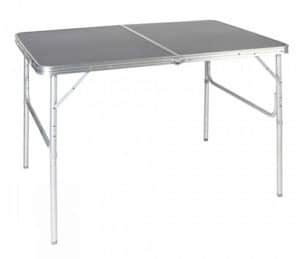 I stopped looking at that point on Cotswold as the prices started to hit the £100 mark and that just seemed a bit pricey to me for an occasional use camping table.
Next stop was the Go Outdoors website. I now had the £50 mark budget set in my head (from seeing the Outwell table on Blacks) so I was looking for something similar on Go Outdoors. A table that looked very similar to the Vango Granite Duo was the Hi Gear Double Picnic table, although this only measures 90cm in length which I think will be too short. Shame as this was a good price at £35.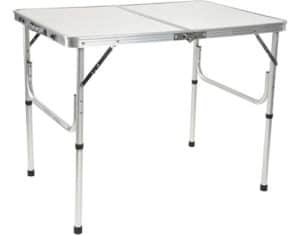 The next equivalent size in price order was the Airgo Mirage Table. I have to say though that I didn't like the look of this table compared to the Outwell and Vango. I also didn't like the price at £74.99. The other thing about this table is that it does not fold in half which makes me think its more of an at-home table than a camping one. Scrap that then.
Before moving on to Amazon, I had a quick look at Simply Hike (first time on their site I have to admit). They had a decent range of tables and the Outwell Claros (Medium) table caught my eye at £36. This one had a plastic table top rather than the metal ones I had seen so far. It was a smaller table though with a top of 100x50cm. It also has 3 different height settings (45/61/71cm), so at the 45cm setting, it would also double up as the coffee table I was also looking for.
Just a bit too small though, which made me think that if this is a "medium", do they do a "large". They indeed do (check it out here) but the legs aren't adjustable on the larger version plus its quite long at 152cm, which makes me wonder if the middle of the table could sag a bit. Good price though at £49.95.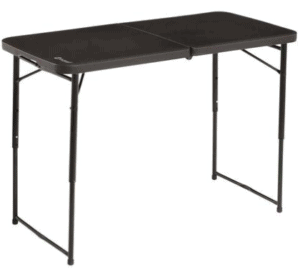 I also had a look at Camping World. They had a great value table at £29.99, the Crusader adjustable table. Again, this was a similar appearance to the Outwell and Vango models and has a table top size of 120 x 60cm. It also mentions about adjustable height but the site does not provide any information about what it adjusts to. The table does not look as robust as the Outwell and Vango models but it has the same load capacity of 30kg and pack size of 60x60x7cm as the Outwell.
I did have a quick look on Amazon but a search for "camping tables 120cm" gave only a few table results include an Outwell/Vango style one from Homfa (never heard of them) which has a retail price of £36.99. This is a good 120x60cm size and also has adjustable legs (55/63/70cm), although at 55cm its getting a bit high to double up as the coffee table I was also looking for.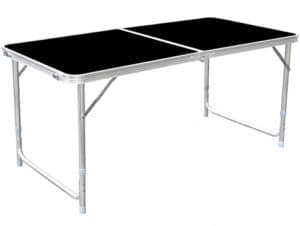 Final decision
So after about an hour of research, I have decided to go for the Outwell Emerson from Blacks, mainly due to its sturdy appearance, the brand and the good price. Plus we also have a Blacks store about 15 minutes away so I can always take it back if anything goes wrong.
I went for the Click & Collect delivery option so it should arrive in store in about 3 to 5 days. I'll let you know how we get on with it after it arrives. As far as the other tables I wanted are concerned, I going to see how we get on with this one first before buying a load of tables that we might not need.