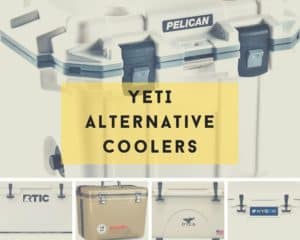 YETI Coolers are great but they're too expensive for the average consumer. With that being said, you should think about purchasing one of the many alternatives. Your options are plentiful but you'll find that some coolers are better in certain areas than others.
So, what brands are comparable to YETI? The main ones are Orca, RTIC, Pelican and Engel. Below, you'll learn more about what coolers are just as good as YETI.
Click here to see the best YETI alternative
YETI Alternative Coolers Compared
Last update on 2023-11-17 / Affiliate links / Images from Amazon Product Advertising API
1.Orca Hard Sided Classic Cooler White 40 QT
First, you have the Orca Hard Sided Classic Cooler. While this is one of the YETI style coolers, it is significantly cheaper. The cooler features integrated insulation to ensure it'll be able to keep your edibles cool and fresh during the summer head. It also features an effective lid gasket that ensures a perfect seal every time. This product is 100% made in the United States guaranteeing superb quality from start to finish.
Warranty
Furthermore, it is backed by a lifetime warranty. If anything wrong, you can rest assured knowing that Orca will fix the problem. You'll also appreciate the cargo net attachment since it provides additional storage. The Orca offers maximum ice retention so it'll work exceptionally well throughout the year. Whether you're going hiking, hunting, or hitting the beach, you can guarantee that this cooler will work great for you and your loved ones.
Check out this article for more Orca cooler reviews.
Click here for the latest price
2.Pelican Elite 30 Quart Cooler
The Pelican Elite 30 Quart Cooler is another one of the coolers similar to YETI. With this one, you'll be able to pick a color that you love. Whether you're a man or a woman, you'll easily be able to find a color that matches your gender and personality. This cooler is made in the United States and it is protected by a legendary lifetime guarantee. If you break it, the company will replace it. So, you don't have to worry about handling it with care.
It is tough, durable, and protected by the company.
Capacity And Other Features
With the Pelican Elite 30 Quart Cooler, you'll receive a variety of other features. This cooler features 4 self-draining cup holders and non-skid rubber feet. Once you plant it on the ground, you know it isn't going to move anywhere. Also, you'll want a cooler that can hold a lot of cans simultaneously. This is why you're going to love the Pelican Elite 30 Quart Cooler. This one features a 23 can capacity making it better than the competition.
With 2 inches of polyurethane insulation, you know this cooler is going to keep your items cold at all times. Plus, it features a stainless steel bottle opener, over-molded carry handle, and 3-inch locking latches.
Click here for the latest price
3.RTIC Ice Chest Hard Cooler 45 Quart
Do you need something a little bigger but still want one of the coolers like YETI? If so but you don't want to overspend, you'll want to check out the RTIC Ice Chest Hard Cooler. This one can hold 45 quarts making it more spacious than the competition. Plus, this cooler is suitable for any occasion. Whether you're going to be barbecuing in your backyard, hitting the lake with friends, or camping with the kids, this cooler will do the trick. The cooler offers enough space for everything you need and it is overflowing with convenient features. Many will agree that the RTIC 45-Quart Hard Cooler is one of the best YETI clone coolers on the market.
While it is overbuilt, it isn't overpriced so you're going to save money along the way. The company promises to deliver the best quality at the lower prices so you'll know you're going to get the best of the best.
Insulation
With many coolers, the promises are never fulfilled. The description may say that the cooler can keep ice cold for days but this likely isn't the case. The cooler won't live up to your expectations. If you want a cooler that can fulfill its promises, you'll want the RTIC Ice Chest Cooler. This one features 3" of insulated walls. This ensures that the ice in the cooler will remain cold for days and days. Plus, you won't have to worry about weak hinges and sweat on the exterior portion of the cooler.
This cooler has the features you want at the price you can afford. It has no fail hinges, a no-sweat exterior, molded side handles, and tie-downs. This cooler will satisfy when you need it the most and is a very good, cheap rotomolded cooler.
RTIC has a great range of coolers – read our full comparison to YETI here.
Click here for the latest price
4.Engel 19-QT Cooler/Dry Box
Some people will be okay with a smaller cooler. If you're going to go fishing alone, you won't need a massive cooler. For many people, the ENGEL 19-Quart Cooler will suffice. While it is smaller than some of the other coolers like YETI, it offers a lot of features that you're going to love. You'll also appreciate that it is available in various colors so you'll easily find one that suits you. With 19 quarts of space, you'll have plenty of room for your food and drinks.
Insulation
With the ENGEL Cooler, you know your food is going to stay fresh throughout the day. It is insulated with high-grade polystyrene foam. It also features self-stopping hinges and carry handles. The non-absorbent surface is very easy to clean. This cooler is stain and odor resistant so it won't stink after a few uses.
Click here for the latest price
5.KYSEK Ultimate Ice Chest 25 Liter
Anyone looking for an ice chest like YETI will want to check out the Ultimate Ice Chest from KYSEK. It is available in several colors and it maximizes frigid temperatures to keep food cold longer. It features the latest cooling technology as well as cutting-edge features that you cannot find elsewhere. While it is available in various sizes, this one can hold 25 liters of goods.
Convenient
The KYSEK Ultimate Ice Chest is designed to make your life easier. It features ZeroSkid non-slip feet so you know it isn't going to slip around on any surface. You'll also appreciate the heavy-duty easy-grip handles. Thanks to the handles, you'll be able to haul this cooler anywhere without any difficulty.
Click here for the latest price
Summary
YETI coolers are amazing but their prices are too high. Thankfully, there are excellent alternatives out there and some may consider the best yeti knockoffs to be from Orca and RTIC. The aforementioned coolers will likely satisfy most consumers. When trying to choose one and make YETI cooler comparisons, it is best to pick the size that matches your needs best.