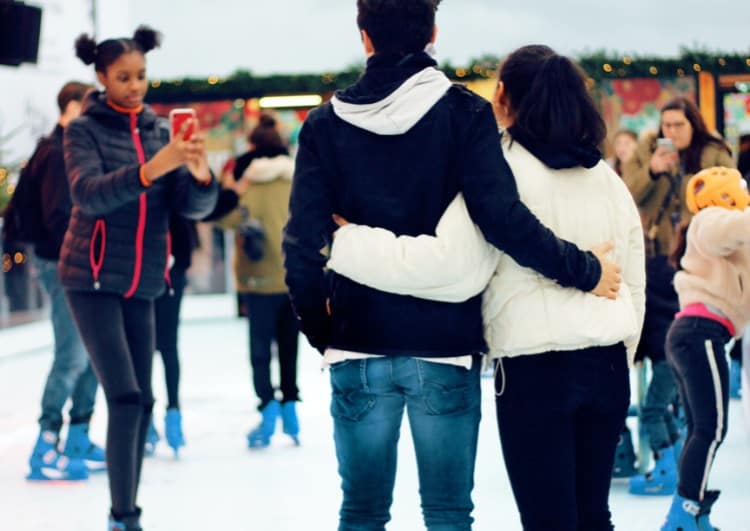 Ice skating is a fun and creative date idea. You can eat together before or after the date. It could also be a stand alone date. It's a great way to get to know each other without awkward pauses at dinner or interruptions.
Like any other date, though, you might be wondering what to wear (ice skating date). Indoor ice rinks (or skating outside on a natural or manmade rink) are going to be cold, so I would suggest warm clothes, but we'll get more specific about that below.
Best Types of Clothes to Wear at an Ice Skating Date 
Like mentioned above, warm clothing would be best. Perhaps a sweater and a light jacket. A scarf might also be useful. 
Layers are a good idea, since you might be cold sitting down or when you start, but when you're moving around, you might get warm and need to remove a layer. 
The nice thing about a casual, low key date, like ice skating, is that you don't have to worry about "dressing up", like at a fancy restaurant or going out for drinks, so it won't be hard to find something to wear. 
You can just dress like you would on a typical Fall or Winter day because most of the suggestions I'll be making for this type of date will be clothing and accessories you'll probably already own, except maybe skates (you can usually rent them if you don't). 
Of course, we all want to make a good impression, especially on a first date, so I'm not suggesting you look sloppy, but the focus should be more on being comfortable, so you can enjoy yourself and hopefully have fun getting to know the other person. 
Should I Wear Jeans? 
It's ultimately up to you what you wear. Jeans would be a good type of pants to wear on this type of date, since they're usually thick and comfortable, but I suggest stretchy or not overly tight jeans, since you'll be bending over to tie your skates and you want to be able to move around comfortably while skating too. 
Leggings would be fine too, as long as they're thick, so they'll keep you warm. 
Any pants that are warm, comfortable and don't drag on the ground are suitable. Your pants shouldn't be too long because you don't want them to get caught on the blades of your skates (hopefully you'll fall in love, not just fall!)
What About Socks? 
As far as socks go, any warm socks that will stay put (not bunch up) will do. This would be a good occasion for wool socks, but if you don't have them, thick cotton socks are fine too.
Since skates aren't usually made to keep your feet warm, it's important to wear socks that keep your feet warm and comfortable. 
What About Gloves – Do I Need Them? 
This will come down to personal preference. If you get cold easily, I would say yes. You might want thick gloves, but fingerless gloves or small stretchy gloves would make tying your laces and drinking hot chocolate or coffee easier (you wouldn't even have to take them off). 
Suggested First Ice Skating Date Outfit for Women 
For women, I would suggest a long sweater, thick leggings, any warm socks and a light jacket. As far as accessories go, I would wear a headband, scarf and fingerless gloves. You can show off your style with your favorite colours, patterns and a couple of pieces of your favorite jewellery.
This is a low key date, so I wouldn't worry too much about what to wear, as long as you're comfortable and warm. You can be cute and comfortable by styling your hair a little, so it's out of your face and minimal or no make up. 
Suggested First Ice Skating Date Outfit for Men
For the men reading this, I would suggest a sweater or thick, long sleeved t-shirt, jeans, any warm socks and light jacket. The accessories would be the same as for women (fingerless gloves, headband or hat and scarf), except in men's sizes and styles. 
The point is to be warm and comfortable, but you can also show off your style with different colours, patterns and perhaps a watch or any other of your favorite pieces of jewellery.